More Information about Suggs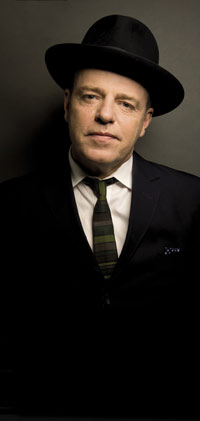 Suggs
MyLifeStory
in words and music
I've just turned 50, the kids have left home, and my cat just died.
Suggs My Life Story in words and music hands you an access-all-areas backstage pass to the Madness front-man's mind as he attempts the dare-devil stunt of single-handedly unravelling the mysteries of his own life.
Join him on an emotional roller coaster through the ups and downs of an astonishing thirty-year career spanning pop music, radio, television, film... and the pie and mash industry.
Witness him cannon ball to the heights of pop success, stumble and plummet down through the trap door of failure, and then trampoline back up to catch the passing trapeze of show business success.
WITH MUSICAL ACCOMPANIMENT AND POINTLESS INTERJECTIONS FROM HIS LOYAL, PIANIST -COME -MANSERVANT.
"It's often very funny, and is delivered with a sense of timing and phrasing that many common-or-garden comics could learn much from" - Dominic Cavendish, The Daily Telegraph
What people are saying about Suggs
Rated

5

out of

5
by
Debbs571
from
How funny is he....?
Having grown up on & with my favourite group of all time, ever in the world, of course The Nutty Boys themselves... I've seen them numerous times too, I didn't quite know what to expect. I'd seen Suggs on telly loads of times & he's always very entertaining. He was more than entertaining on this tour, he was/is absolutely hilarious. Even my husband was laughing & left the night praising both Suggs writing & delivery! His story from them to now captivated everyone in the audience, the tales of adolescence, drunken nights, rock N roll & more, were brilliantly told. I would they recommend seeing Suggs on tour, if you love the music & him, well you'll have a brilliant night. I'd go again!!!
Date published: 2018-03-29
Rated

5

out of

5
by
Aaaarrrrrjjjjj
from
Top show
I was accompanied by my 24 year old daughter and we both had a good laugh at Suggs stories.
Date published: 2018-03-25
Rated

5

out of

5
by
bbobs
from
One step beyond
Looking forward to this for sometime. Good seats although a little cramped and difficult To get in n out of seats. Really funny first half. Suggs did a great job and still looks great. Thoroughly recommended
Date published: 2018-03-21
Rated

5

out of

5
by
NeilRichard
from
Fantastic event
Attended the event with my wife and was entertained thriughout. Suggs is a top and funny entertainer.
Date published: 2018-03-04
Rated

5

out of

5
by
Cherylbob
from
Great night
Went with my husband and his friend, all had a great night..would of attended everynight if he had done more..
Date published: 2018-03-01
Rated

5

out of

5
by
Taziali
from
Suggs at the Lowery Manchester
I went to this with a friend, what a fantastic night, couldn't wait for the intermission as my jaw was aching so much with laughing, so funny, we waited at the stage door what a genuine guy, so nice with everyone even though you could see he was shattered, can't wait for my nxt Suggs adventure !
Date published: 2018-02-16
Rated

5

out of

5
by
Jacsdavies
from
Husband Valentines gift
It was absolutely brilliant, what a star SUGGS is and what a life! We laughed we cried!!! Perfect evening x
Date published: 2018-02-15
Rated

5

out of

5
by
Binnie
from
Fantastic
Went with hubby and friends,what a great night.What a show SUGGS was great .
Date published: 2018-02-14