The Coral Tickets and Dates
'Move Through The Dawn' is the brand new studio album from The Coral, recorded at Parr Street Studios in Liverpool and produced by The Coral and Rich Turvey.
The album is the influential Hoylake five-piece's follow-up to 2016's critically acclaimed 'Distance Inbetween'.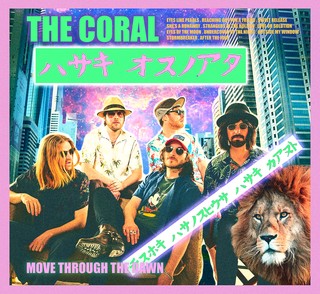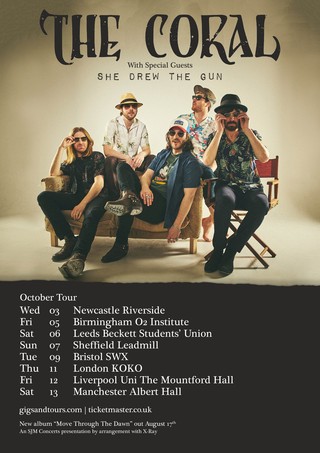 What people are saying about The Coral
Rated

5

out of

5
by
Russ1
from
Awesome band
Loved it. True professionals and crowd pleasers !! Always this good.
Date published: 2018-10-28
Rated

5

out of

5
by
Jacqueline 21
from
Love them more
I first saw The Coral at a intimate venue at Kingston- upon- Thames which was an absolutely great night playing all the stuff I loved. To be honest I was a little apprehensive as whether this gig at the Electronic Ballroom would live up to it for me. Life had been hectic hadn't really listened to their their album but so want to make sure I do as they didn't disappoint one bit another great gig with a rockier edge and more psychedelic feel toloose yourself in not forgetting to still throw in old jaunty folk favourites . I loved it
Date published: 2018-10-27
Rated

5

out of

5
by
DiH28
from
Brilliant Gig
Husband and daughter are fans of The Coral - I am now!, Fantastic atmosphere. What a great venue The Albert Hall in Manchester is. The Coral were brilliant.
Date published: 2018-10-24
Rated

5

out of

5
by
Pads
from
Top gig with two great support acts
Great gig! The Coral were on form and both support bands were excellent! Great venue! (bar queues a too long)
Date published: 2018-10-23
Rated

5

out of

5
by
Merlin47
from
My favourite event of last Saturday
I went to the Coral I adore the band and love the Albert Hall venue and I got t shirt And hoody outside for 20 dollars
Date published: 2018-10-22
Rated

5

out of

5
by
Geordie dave
from
The coral
Went to the Albert hall gig first time I've seen them live since 2002 great gig still doesn't say much James but what a great night
Date published: 2018-10-15
Rated

5

out of

5
by
Beck_MayC
from
The best band around at an awesome venue
The Coral are back to their best and sounded great in the old church venue - especially the harmonies in 1000 years gave me goosebumps.
Date published: 2018-10-14
Rated

5

out of

5
by
Tarkus
from
The Coral can do no wrong
Great gig. Great support from She Drew The Gun and Cut Glass Kings.
Date published: 2018-10-14