The Jungle Tickets and Dates
The Playhouse Theatre, London
No seats available for this day
More Information about The Jungle
★★★★★ The Telegraph, Dominic Cavendish, 8 July Astonishing. The West End just got a heart transplant. Inspiring, unmissable, vital. The most important play in the West End ★★★★★ The Guardian, Michael Billington A priceless piece of theatre. Superb. This is that rare thing: a necessary piece of theatre. a superb production by Stephen Daldry and Justin Martin
Following universal critical acclaim, & direct from a sold-out run at the Young Vic, the National Theatre &
Young Vic
co-production with
Good Chance Theatre
of
Joe Murphy
&
Joe Robertson
's
The Jungle
, directed by
Stephen Daldry
&
Justin Martin
is open to rave reviews in the West End.
This is the place where people suffered & dreamed. Meet the hopeful, resilient residents of The Jungle - just across the Channel, right on our doorstep. The Jungle tells stories of loss, fear, community & hope, of the Calais camp's creation - & of its eventual destruction. Join the residents over freshly baked naan & sweet milky chai at the Afghan Café, & experience the intense, moving & uplifting encounters between refugees from many different countries & the volunteers who arrived from the UK.
Take a seat and watch from the traditional theatre seating in the Dress Circle, overlooking the dynamic performance space below.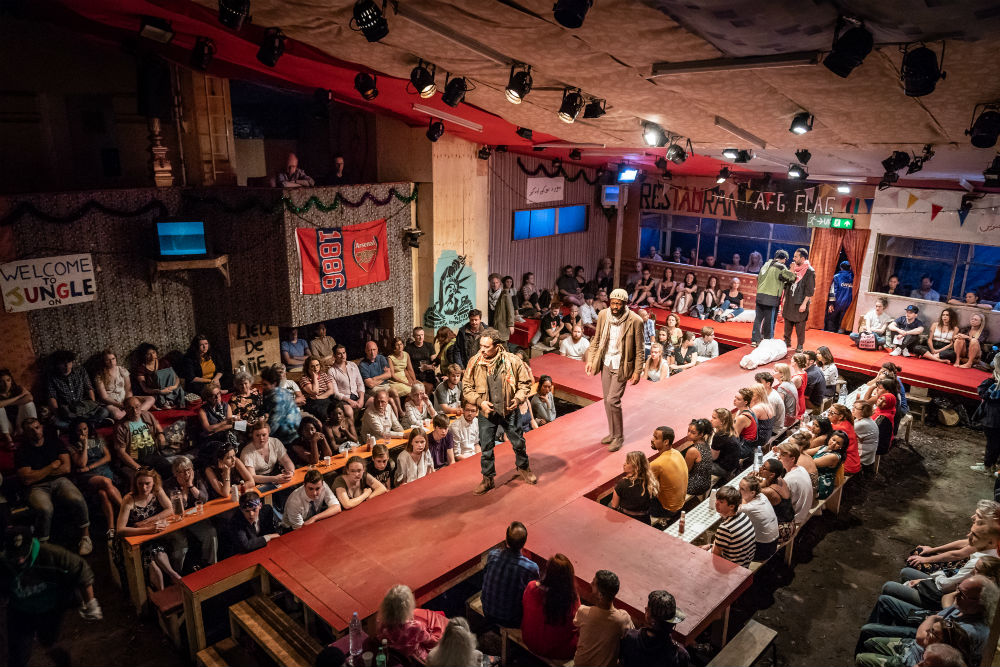 IMPORTANT INFORMATION
The auditorium has been transformed into the world of the Afghan Café in the Calais Jungle. The Calais camp was largely organised by nationality, and the auditorium space has been designed to reflect this.' Due to the nature of the performance space you may be asked to check bags and coats into our free cloakroom. No latecomers are permitted. If you leave your seat during the performance you may be prevented from readmission to the auditorium. Please note, this production contains the following: Smoke effects; Strobe/ flashing lights; Cigarette smoking; Strong language; Loud noises and gunshot sounds; Prolonged periods of darkness; Images which some may find disturbing.
THE JUNGLE
Booking Period: 9 July - 3 November 2018
Running Time: To be confirmed
Age Restriction: To be confirmed

ACCESS PERFORMANCES
Tue 21 August 2018 7:30pm - Captioned performance
Tue 28 August 2018 7:30pm - Audio Described
More Information about The Jungle
What people are saying about The Jungle