The Murdér Express Tickets and Dates
Pedley Street Station, London
No seats available for this day

No seats available for this day

No seats available for this day

No seats available for this day

No seats available for this day
More Information about The Murdér Express
Join our Train conductor and pleasure seeking passengers as they embark on a journey of a lifetime. Travelling by train for pleasure is in its infancy. During your time with us you will have time to enjoy drinks at the Seven Sins platform bar and once onboard you will be served a selection of dishes from a 4 course menu designed by MasterChef 2016 winner Jane Devonshire. Pedley Street Station's luxury train "The Murdér Express" is back! Pedley Street Station has just opened and we invite you to be one of the first passengers to experience its new luxury train '
The Murdér Express
' as it makes its first historic journey. Please email
dietary@funicularproductions.com
with any dietary requirements. (Vegan, Vegetarian, Gluten Free options)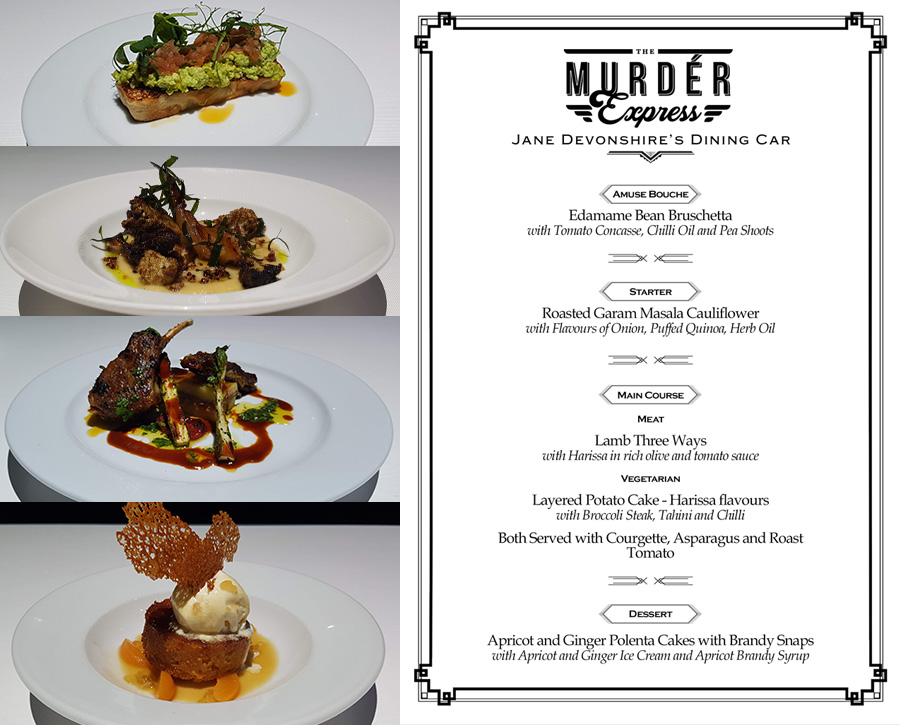 Important Information
BOOKING PERIOD:
Tuesday - Friday, (2 shows) 6pm, 8.30pm Saturday: 1pm, 3.30pm, 6pm and 8.30pm Sunday: 1pm, 3.30pm, and 6pm
RUNNING TIME:
2hrs 30mins
AGE RESTRICTIONS
: Minimum recommended age is 13
VENUE:
Pedley Street Station. Arch 63 Pedley St, London E1 5BW
More Information about The Murdér Express
What people are saying about The Murdér Express
Rated

5

out of

5
by
Sara1234
from
Brilliant
I went to this event with my husband and we had a great time. The actors were great and the show was very interactive with the audience joining in. The food was ok it could have been better I feel. Overall I will definitely recommend. The drinks were good and served in good time.
Date published: 2019-02-16
Rated

1

out of

5
by
FreddyW
from
Unbelievable
It was at best a mediocre show. Many of the actors were friendly with customers and did try to engage in some light chat. However in opinion it was not worth it. The food was OK but the show was not.
Date published: 2018-09-30
Rated

3

out of

5
by
Shell2016
from
Lovely Food
Food was brilliant. Entertainment was okay... lots of sitting around with nothing going on, act overall was a bit silly. We went as a couple on a table with 4 other people, got chatting and forgot we were meant to be solving a murder. It didn't feel engaging enough and the moving pictures either side of the train need to be in sync with each other - one side going fast when the other is really slow was distracting and annoying. Overall it was enjoyable but not sure I would recommend or go again. That said, the staff were also very friendly, especially the doorman whilst everyone was waiting to go in.
Date published: 2018-09-24
Rated

5

out of

5
by
Super 7
from
Great fun - a meal with a difference
Took my friend to this as her birthday outing, and we had a really fun time. The food was good, and they had taken note of dietary requirements, which was important to us as my friend has to be gluten free. The 'train' was very cleverly done, and the actors and the plot were great fun too. Well recommended.
Date published: 2018-09-20
Rated

5

out of

5
by
David Blackheath
from
Great fun
Thoroughly enjoyable evening with great food highly recommended
Date published: 2018-09-17
Rated

5

out of

5
by
Backgammon
from
An excellent evening
Had a great time - cast, service and other diners were such fun. Cocktails and food were of a high standard. Train experience was very clever - worth every penny.
Date published: 2018-09-16
Rated

3

out of

5
by
Phildo
from
Disappointing event
Really disappointed acting very amateurish Bad location difficult to find Plot disappointing thought it would be more interactive with audience
Date published: 2018-09-12
Rated

4

out of

5
by
Lynne and jules
from
The murder express
The event was a birthday present for my daughter we both enjoyed
Date published: 2018-09-09