The Woman In Black Tickets and Dates
Fortune Theatre, London
No seats available for this day

No seats available for this day

No seats available for this day

No seats available for this day

No seats available for this day

No seats available for this day

No seats available for this day

No seats available for this day

No seats available for this day

No seats available for this day

No seats available for this day

No seats available for this day

No seats available for this day

No seats available for this day

No seats available for this day
More Information about The Woman In Black
❛IT WAS NINE-THIRTY ON CHRISTMAS EVE...❜
Susan Hill's
acclaimed ghost story comes dramatically alive in
Stephen Mallatratt's
ingenious stage adaptation - "The most brilliantly effective spine-chiller you will ever encounter" (Daily Telegraph). Now celebrating three decades in the West End, Robin Herford's gripping production is a brilliantly successful study in atmosphere, illusion and controlled horror. "One of British theatre's biggest - and scariest - hits" (The Guardian). A lawyer obsessed with a curse that he believes has been cast over him and his family by the spectre of a Woman in Black, engages a sceptical young actor to help him tell his terrifying story and exorcise the fear that grips his soul. It all begins innocently enough, but then, as they reach further into his darkest memories, they find themselves caught up in a world of eerie marshes and moaning winds.
Watch The Trailer
Production Shots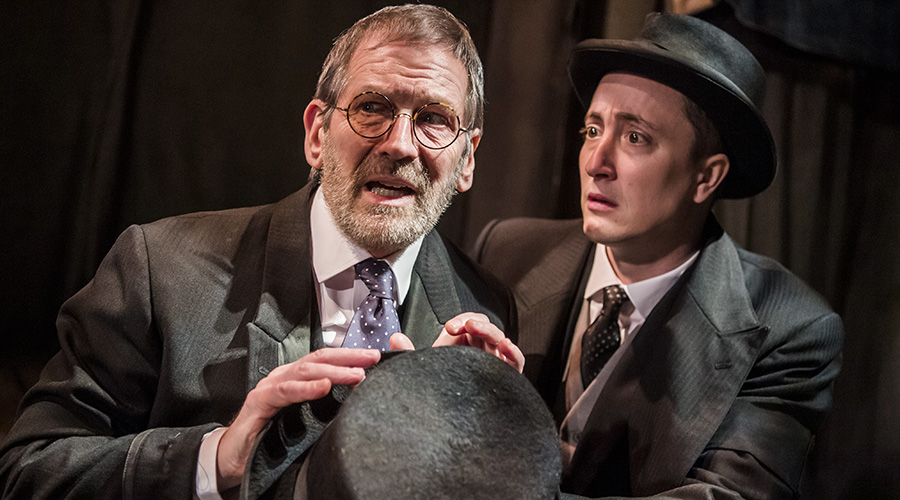 Important Information
£1.50 restoration levy (collected on behalf of the theatre) appears as part of the face value.
PLEASE NOTE:
at all performances there is a possibility of large number of school groups being present.
BOOKING PERIOD:
Until 28 March 2020
PERFORMANCE TIMES:
Tuesday- to Saturday: 8pm, Tuesday and Thursday 3pm, Saturday: 4pm
RUNNING TIME:
approx. 2 hours (inc. interval)
AGE RESTRICTION:
14+, Children under the age of 12 years will not be admitted into the auditorium
VENUE:
Fortune Theatre, Russell St, London WC2B 5HH
What people are saying about The Woman In Black
Rated

5

out of

5
by
SeanP
from
Fun, true to the book and thrilling
After reading the book I went to see the play to solidify my understanding of the story. It was instantly worth it when I saw how the theatre production adapted the play to still fix the story. There were also a few jump scares and the ocassional loud noises which really emphasised the significance of the Woman in Black.
Date published: 2020-02-23
Rated

5

out of

5
by
Pam99
from
Really enjoyed this!
We took our 14 year old grandson to see this and because of mixed reviews on here I was a bit apprehensive, but I needn't have worried. After the first 5 minutes it was easy to understand the concept of the actors swapping rôles and to get used to the minimum props. and appreciate their skill in using these to paint a clear picture of the scenes before us. It was a joy to have to use our imaginations, whilst listening to a gripping and intriguing story. The play is creepy and scary enough to satisfy the expectations, helped along by excellent sound effects and clever use of background scenes to expand the stage and heighten the suspense.The two actors were excellent, although at times the conversation was a little difficult to hear from the Upper Circle. We all really enjoyed it and if you like a play that makes you think, entertains with a good story, well told and which makes you jump then go and see The Woman in Black! Our grandson didn't stop talking about it all the way home and to get that reaction from a teenager is quite an achievement! The staff at this small theatre are very pleasant and helpful and the tickets arrived without any hassle. An excellent experience all round.
Date published: 2019-03-17
Rated

5

out of

5
by
Nicked01
from
Dead Scary
See for yourselves and how you enjoy the show to which found the show very haunting.
Date published: 2018-11-14
Rated

5

out of

5
by
Natalie123
from
Amazing
Seen it twice now when comes to nottingham and can't wait till it's on again still makes me jump Every time
Date published: 2018-03-21
Rated

4

out of

5
by
Michael Green
from
Good show in intimate theatre
Considering there were only two actors (plus a ghost!) the show was well thought out and was a story within a story. A clever production with simple, but effective, use of the limited scenery.
Date published: 2017-10-15
Rated

3

out of

5
by
Deenspice
from
A reasonable good story
I went on my own a interesting story some parts make u jump, my seats was up graded
Date published: 2017-10-08
Rated

4

out of

5
by
gerio
from
good show
I went to the show with my daughter. We went to a matinee. The show was most enjoyable. I loved the dog!
Date published: 2017-07-14
Rated

5

out of

5
by
Ljsam
from
Gripping theatre experience. Highly recommend
I took my 15 yr old daughter and we had a great time. Excellent seats and great value for money.
Date published: 2017-05-31