The Woman In Black Tickets and Dates
Sorry there are no shows for The Woman In Black right now.
Past The Woman In Black Events
More Information about The Woman In Black
❛IT WAS NINE-THIRTY ON CHRISTMAS EVE...❜
Susan Hill's
acclaimed ghost story comes dramatically alive in
Stephen Mallatratt's
ingenious stage adaptation - "The most brilliantly effective spine-chiller you will ever encounter" (Daily Telegraph). Now celebrating three decades in the West End, Robin Herford's gripping production is a brilliantly successful study in atmosphere, illusion and controlled horror. "One of British theatre's biggest - and scariest - hits" (The Guardian). A lawyer obsessed with a curse that he believes has been cast over him and his family by the spectre of a Woman in Black, engages a sceptical young actor to help him tell his terrifying story and exorcise the fear that grips his soul. It all begins innocently enough, but then, as they reach further into his darkest memories, they find themselves caught up in a world of eerie marshes and moaning winds.
Watch The Trailer
Production Shots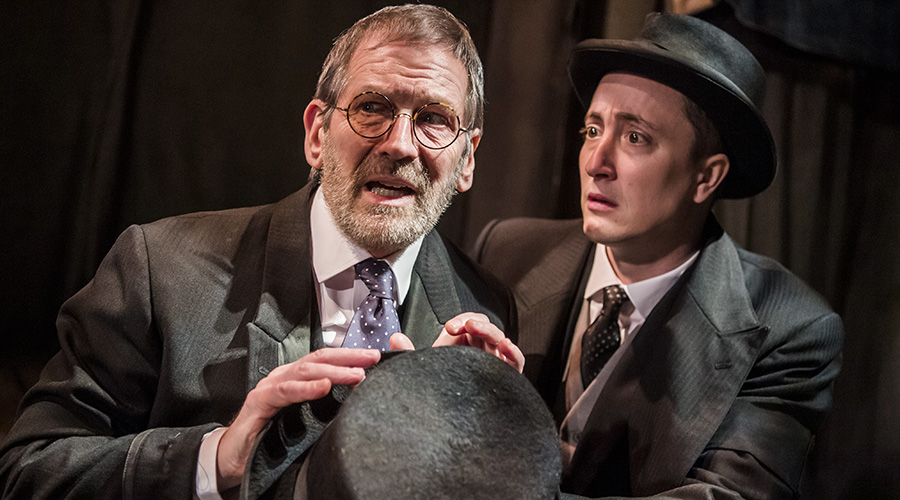 Important Information
£1.50 restoration levy (collected on behalf of the theatre) appears as part of the face value.
PLEASE NOTE:
at all performances there is a possibility of large number of school groups being present.
BOOKING PERIOD:
Until 28 March 2020
PERFORMANCE TIMES:
Tuesday- to Saturday: 8pm, Tuesday and Thursday 3pm, Saturday: 4pm
RUNNING TIME:
approx. 2 hours (inc. interval)
AGE RESTRICTION:
14+, Children under the age of 12 years will not be admitted into the auditorium
VENUE:
Fortune Theatre, Russell St, London WC2B 5HH
What people are saying about The Woman In Black
Rated

5

out of

5
by
Tarus1969
from
The Women in Black
Went with my Husband, daughter and her boyfriend. It was amazing.
Date published: 2017-04-03
Rated

5

out of

5
by
Dmphawkins
from
Amazing atmosphere
Fantastic production, kept us gripped throughout! Atmosphere in the theatre at times was chilling!
Date published: 2017-02-05
Rated

1

out of

5
by
Marianne2012
from
Awful
Very disappointing, went with three friends and all hated it, we left in the interval as we couldn't bear sitting through another hour!
Date published: 2016-11-28
Rated

4

out of

5
by
AmyLlew
from
Persevere with The Woman in Black!
I went to see this show because the tickets were half price and I had previously seen the movie and enjoyed it. I had heard marmite reviews from other people - some loved it, some had walked out because they hated it. My advice is perservere. The first half is slow and takes a while to get into but once you've got round the fact that you are watching a play about people doing a play you can focus on what the story is. There are minimal props, only two actors (three if you count the silent woman dressed in black), no big scenery and limited sound effects. However, if you can immerse yourself in the show the lack of those things really doesn't matter because your imagination will make up for what your eyes can't see. The actors were very talented and humorous in parts. They were able to take in many different roles and make each individual. I rated the show 4 stars instead of 5 because I didn't find it as scary as the reviews stated, but it takes a lot to make me jump and others may find it creepier than I. It was different from anything else I had ever seen in the West End and definitely worth the venture.
Date published: 2016-10-26
Rated

4

out of

5
by
Helsbels49
from
Great jumpy moments
This was un-expectantly good considering it was only 2 main characters on the stage. The characters brought the story to life and gradually built it up to create a very on the edge of your seats ending. The stage visual and sound effects were good making you think you were actually there with the characters which was a difficult thing to do on a small stage.
Date published: 2016-04-06