The Year Of The Rooster Monk Tickets and Dates
Sorry there are no shows for The Year Of The Rooster Monk right now.
Past The Year Of The Rooster Monk Events
More Information about The Year Of The Rooster Monk
Devised by Giselle Gant, Nadege Adlam, Nathalie Adlam and Lydia Benecke
A PRE-DIGITAL GHOST TAKES A LONELY MILLENNIAL ON A TRIP.
The witching hour: it's late, it's hot and an out of work actor Giselle loafs on a couch in gentrifying Harlem. Suddenly a call comes through from Mom that changes the course of everything. As the year of the Monkey gives way to the inauspicious year of the Fire Rooster, Giselle must wake up to realities of life - realities that she's been avoiding for years. But she's not alone. Seizing the opportunity to audition for the part of Oda Mae Brown - the reluctant psychic from 90s movie Ghost - Giselle decides to channel Oda Mae's chutzpah and tap into her own #BlackGirlMagic. From here on in she's going to read the signs for what they are. "
You don't have to have moved house recently to appreciate Giselle LeBleu's spooky, warm and thoroughly original storytelling show...
" -
Exeunt Magazine
Production Shots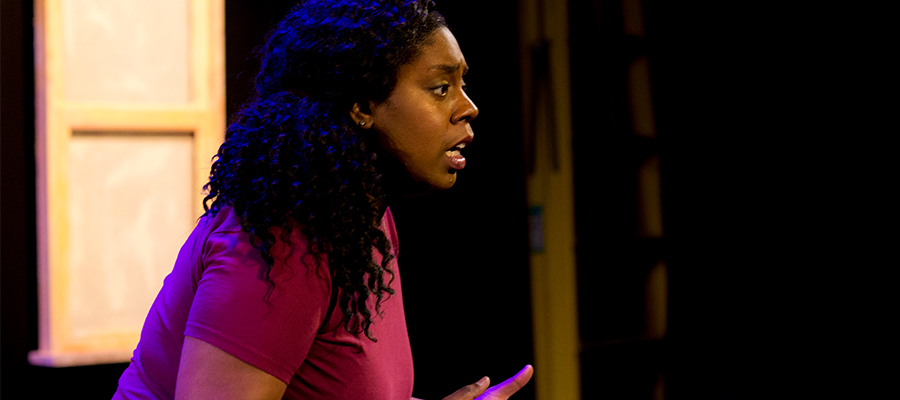 Photo Credit: Mike Massaro
BOOKING PERIOD:
22 May - 3 June 2018
RUNNING TIME:
1 hour
AGE RESTRICTION:
14+
VENUE:
DOWNSTAIRS, The Pleasance Theatre, Carpenters Mews, North Road, London, N7 9EF
What people are saying about The Year Of The Rooster Monk