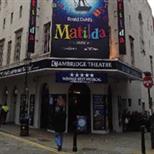 Tickets for events at Cambridge Theatre, London
The Cambridge Theatre is a West End theatre, on a corner site in Earlham Street facing Seven Dials, in the London Borough of Camden, built in 1929-30. It was designed by Wimperis, Simpson and Guthrie; interior partly by Serge Chermayeff, with interior bronze friezes by sculptor Anthony Gibbons Grinling. The theatre is built in steel and concrete and is notable for its elegant and clean lines of design. The theatre was refurbished in 1950-the original gold and silver decor was painted over in red, and candelabras and chandeliers were added. In 1987, in order to restore the original decor, the theatre was once again refurbished, this time by Carl Toms. The theatre has a circular entrance foyer, with Grinling's bronze frieze depicting nude figures in exercise poses, the theme continues into the main foyer, with dancing nudes, marble pilaster up lighters and concealed lighting.
Parking
Masterpark at Cambridge Circus. NCP at St Martin's Lane. Meters in Earlham Street (11 spaces), and in Mercer Street (2 spaces) www.parkingforbluebadges.com (Comprehensive parking and interactive bus information for Blue Badge disabled drivers travelling around London)
Step-free information
Step free access is available into the Stalls via Earlham Street and open 30 minutes before the performance. Entrance to the foyer is through two sets of double swing doors. Entrance into the Stalls corridor through the third double EXIT door on Earlham Street. There is a slight slope down into the Stalls. Please speak to a member of the front of house team at the main entrance and they will accompany through to the step free access/seats.
Wheelchair Access
There are 2 wheelchair spaces in row N1 & N34 of the Stalls with companion seats alongside. Wheelchair transfer are available to any end of row seat in the Stalls. Access into the auditorium is via the main entrance on Earlham Street. Toilet Facilities There is an accessible toilet in the Stalls for wheelchair users by the level access entrance.
Hearing Systems
The theatre uses the Sennheiser infra-red headset system and 10 headsets are available from the front of house staff in main foyer. These headsets are for people who are hard of hearing but please note there is no induction loop system in the auditorium. 3 necklace type hearing systems are available for people who use a hearing aid. There is an induction loop at the Box Office to assist hearing aid users when booking tickets. For further information regarding hearing systems, please call the theatre stage door on 0207 850 8710.
Guide Dogs
The theatre management are happy to look after your Guide/Hearing dog during the performance. Please approach a member of the front of house team when you arrive at the theatre and they will make the necessary arrangements.
Autistic Spectrum Info
The theatre would be grateful for any additional information regarding your needs prior to going to the theatre, especially anything regarding sensory issues or matters relating to Autistic Spectrum Disorder. Please feel welcome to call the theatre management on 0207 850 8710 so they can offer you more assistance throughout your visit.
General Access Info
Ticket Prices: £31.25/£32.50/£33.75 - Matilda the Musical Assisted Performance List: Audio Descrption: Matilda the Musical Saturday 13 April 2.30pm - £33.75 Sunday 2 June 3.00pm - £33.75 Thursday 1 August 7.30pm - £32.50 Friday 18 October 7.30pm - £32.50 Wednesday 11 December 2.30pm - £31.25 Seating allocation in the Stalls. For information about touch tour times or to listen to an audio introduction in mp3 format, please visit www.matildathemusical.com/ticket-information/accessibility Captioned (Stagetext): Matilda the Musical Thursday 24 January 7.30pm - £31.25 Sunday 14 April 3.00pm - £33.75 Saturday 1 June 2.30pm - £33.75 Wednesday 31 July 2.30pm - £32.50 Tuesday 15 October 7.00pm - £31.25 Sunday 15 December 3.00pm - £32.50 Please note the prices mentioned above are per ticket and only available for the disabled person and companion. Additional tickets are charged at the regular rate.