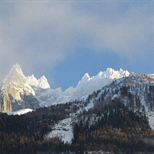 Tickets for events at Chamonix, Mont Blanc
Chamonix, Mont Blanc tickets
Sorry, there are no shows on sale at Chamonix, Mont Blanc right now.
Chamonix is one of the oldest ski resorts in France and is still fully functioning all year round. It is at the foot of Mont Blanc. In 1924 it was the site of the first winter olympics. It is a popular resort for winter sports and is also well known for it's cable car which is one of the highest in the world.
By Train
In the winter there are TGV lines that go directly to St. Gervais-les-Bains (Le Fayet), where you can switch to a small local train to ride up into Chamonix. There is also a TGV that leaves directly from Charles-de-Gaulle airport to Lyon, and you can transfer to St. Gervais-les-Bains (Le Fayet) from there. Via St. Gervais, sleeper trains to Paris are also easily accessible.
By Car
Chamonix is located 80 km southeast of Geneva, Switzerland, and driving time is about one hour via the Autoroute Blanche (A40) motorway. Chamonix is 226 km from Lyon and 612 km from Paris.
By Taxi
For taxi information please visit http://www.chamonix.com/taxis,15-3121,en.html
By Bus
Alpybus, which is based in Geneva offers a high frequency shuttle service to Chamonix with fares at around 26.50 euro per person.
Wheelchair Access
The resort is wheelchair accessible.
General Access Info
The resort does offer disabled facilities.