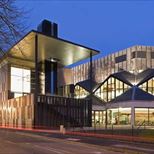 Billets pour des événements à Eden Court Theatre, Inverness
Eden Court Theatre, Bishops Road, Inverness, Inverness, IV3 5SA
Parking
Parking is free at the moment but could be subject to change over the coming months. Eden Court Car Park has limited spaces so please allow plenty of time to find alternative parking elsewhere. Seven disabled bays are located at the front of the theatre with a further two at the side and one more at the back of the building. If you require assistance staff will be happy to help. Please call Box Office on 01463 239 841 to arrange this. Highland Council recently introduced a pay and display scheme to its car park behind the theatre. Charges apply Monday to Friday from 4pm-8am and all day Saturday and Sunday. Up to 3 hours £2; over 3 hours up to 10 hours £4; over 10 hours up to 24 hours £5. Highland Council's car park is not open outwith these times.
Information sur les accès sans marches
The site includes two theatres, two cinemas, two studios, exhibition spaces, bars and a bustling restaurant. The entrance is accessible by wheelchair, with seven disabled parking bays located at the front of the building (50m from the entrance), a further two at the side of the building (70m) and another at the back (100m). Hearing and seeing guide dogs are welcome in the building. We offer Touch Tours, Audio Described and Signed performances for many shows.
Accès en fauteuil roulant
We have wheelchair spaces for each performance. These spaces must be booked in advance and Box Office staff can advise on availability of these seats. Eden Court also has a number of wheelchairs available for customer use. If use of a wheelchair would make it easier for you to access our building, we would recommend booking in advance to ensure availability.
Systèmes d'écoute
Our four major performance spaces are equipped with two-channel infrared equipment for the hearing impaired. Special receivers are available at the Box Office and can be used on their own or in conjunction with your hearing aid. Please reserve your receiver when booking your seat.