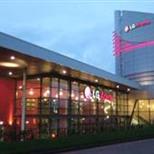 Billets pour des événements à LG Arena, The NEC, Birmingham
Désolés, il n'y a actuellement pas de spectacle disponible.
With its redevelopment completed in October 2009, the reinvigorated LG Arena is a must stop destination on the European Touring Circuit. The former NEC Arena, which was renamed the LG Arena in 2008 after a sponsorship rights deal with LG Electronics, features brand new seating, hospitality, bars, restaurants and other essential customer facilities as well as improved backstage areas. With a more intimate seating configuration the arena provides an outstanding audience experience and continues the legacy that The NEC Arena began when first opening its doors nearly 30 years ago.
En train
The LG Arena is situated adjacent to Birmingham International Rail Station; if you are coming to a concert or event at the LG Arena then it is just a short walk from the station. Depending on your origin station you can travel directly by train to the LG Arena by alighting at Birmingham International. If your point of origin does not provide a service directly to Birmingham International you will need to travel to Birmingham New Street first and get a connecting train from there.
En voiture
The LG Arena is situated 8 miles east of Birmingham city centre; its central location ensures it is at the hub of the UK motorway network. Visitors from any direction can travel to The NEC site directly using the following motorways - M1, M5, M6, M6 Toll, M40 and M42. The NEC is signposted on motorways and major roads and is marked on most good maps. If you are travelling by car, we recommend that you allow plenty of time for your journey. If you are using a satellite navigation system please enter the postcode B40 1NT to pinpoint the arena. Please be aware that the Sat Nav system will not direct you into an onsite car park. Please follow the clearly signposted directions once in the vicinity of the venue.
En bus
The LG Arena can be reached by a number of local bus services. If you are travelling to the LG Arena from Birmingham city centre there are two route options. The 900 service leaves from Moor Street Interchange and has a daytime frequency of 20 minutes. The 900 will drop you at Birmingham International Interchange with a journey time of approximately 31 minutes. The 38 service leaves from Moor Street Interchange hourly, it has a journey time of approximately one hour. The 38 will drop you off at Birmingham International Station.
Parking
The NEC site has numerous car parks that are broadly categorised into North, East, South and West. All in all there are over 20,000 parking spaces on site. On arrival at the NEC, please follow directional signage to the Arena, which will lead you to the nearest available parking area for the event. Typically, for events at the LG Arena, visitors will be parked on the South, East and West car parks. Please note that parking areas are subject to availability and other NEC site activity.
Accès en fauteuil roulant
All disabled visitors, attending concerts are advised to call the Dedicated Ticket Line for disabled visitors on 0844 581 0700 when booking tickets. Please inform them at the time of booking if you need a wheelchair space or have any special requirements, so that they can arrange for everything to be ready on your arrival.
Systèmes d'écoute
An Infrared Hearing System is operational in selected seating areas, which can be linked to visitors' hearing aids. The system can also be used by visitors who do not have a hearing aid. Customers wishing to utilise this system should inform the venue before attending the event.
Chiens-guides
Assistance dogs are welcome at the venue but it is not recommended to bring them to an event where the noise levels are high.
Informations générales sur l'accès
The NEC site has designated car park spaces for visitors with disabilities.