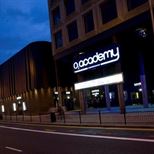 Tickets for events at O2 Academy2 Birmingham, Birmingham
O2 Academy Birmingham, 16-18 Horsefair, Bristol Street, Birmingham, B1 1DB
Book Tickets: Box Office Opening Hours: 12-4pm Monday Friday 11-4pm Saturday Closed Sunday Opening times may vary during public holidays please see www.facebook.co.uk/o2academybirmingham for announcements. When the box office is closed tickets can be bought online or over the phone with our primary ticket agent: Ticketweb on 08444 77 2000. About AMG invested 5.5m in its latest 45,000sq ft development, three state of the art venues that can operate independently as well as simultaneously. With an exceptionally busy diary, O2 Academy Birmingham actively supports new and developing talent in O2 Academy2 and O2 Academy 3, through to gigs by top international artists for over 3,000 fans in its main auditorium. Contact Us Book tickets: 0844 477 2000 (24 Hr) Venue information and Box Office: 0121 622 8250 Email: mail@o2academybirmingham.co.uk Academy Music Group information: For recruitment, visit Academy Music Group For press please email press@academy-music-group.co.uk For marketing and partnerships please email jonny@academy-music-group.co.uk Disabled Access Bookings: Please email disabledbookings@o2academybirmingham.co.uk with your access requirements and the show you wish to see in order to make a booking. All e-mails will be responded to within 2 working days. Spaces may be limited and will be sold on a first come first served basis and you must book directly through the venue to ensure access. You can also contact the box office through text relay www.textrelay.org.uk should this be required. Details of nearby accessible hotels, bars and restaurants can be found on this website. www.directenquiries.com Age Restrictions Gigs: The minimum age is 8 unless with written permission from venue management. Under 14s must be accompanied by an adult. Clubs: Strictly over 18s (Photographic ID may be required)
By Train
Birmingham New St is the nearest train station and is an accessible station. It is approximately ten minutes walk from O2 Academy Birmingham.
By Bus
The nearest bus stop is approximately 50m from the entrance to the venue on Bristol St. The following buses stop at this stop: 61, 63, X62, X64. There is also a stop on the opposite side of the road but as Bristol St is a triple carriageway, there is an accessible subway that must be used in order to cross the road to get to the venue. The following buses stop across the road: 61, 63, 886, X62, X64. Full details of bus services can be found at nxbus.co.uk
Parking
There is no dedicated parking at O2 Academy Birmingham. There is an extremely limited number of on street parking spaces on Irving St just behind the venue. Alternatively please see www.o2academybirmingham.co.uk/info for full details of local car parks and public transport.
Wheelchair Access
Access Booking Tickets To book tickets for O2 Academy Birmingham: Please email daniel@o2academybirmingham.co.uk with your access requirements and the show you wish to see in order to make a booking. All e-mails will be responded to within 2 working days. Spaces may be limited and will be sold on a first come first served basis and you must book directly through the venue to ensure access. You can also contact the box office through text relay www.textrelay.org.uk should this be required. Companion / Carer Ticket This venue offers one free companion ticket which will be arranged by the venue when booking tickets. These are limited in availability so please ensure you contact the venue as soon as possible to arrange. Companion / carer ticket holders should be able to meet the needs and assist the person they are accompanying in the event of an emergency. Braille Braille information sheets are available on request please email boxoffice@o2academybirmingham.co.uk or call 0121 622 8250. Arriving at the Venue We recommend arriving at the venue 10 - 15 minutes prior to the doors opening as disabled patrons are invited to enter the venue first. The door time will be stated on the tickets or confirmations. Please try to arrive at the venue no later than 60 minutes after the doors open. On arrival please go to the front of the queue and present your confirmation e-mail to security or box office staff. All box offices are at an accessible height. We currently do not have induction loops fitted at the box offices. Strobe Lighting Flashing and strobe lighting is likely to be used at all shows but may vary in intensity and frequency. Please contact mail@o2academybirmingham.co.uk for information relating to specific shows. O2 Academy2: The area in O2 Academy2 is located on a small dedicated balcony at the back of the room and can be accessed by lift. The area can accommodate up to approximately four wheelchair users with up to four carer seats but the capacity can vary according to the requirements of the customers attending. The accessible toilet on the balcony of O2 Academy1 can be utilised by disabled patrons from O2 Academy2. This is accessed by radar key. Bar staff will attend the disabled access area at regular intervals throughout the night in order to take drinks orders from disabled access customers. Merchandise is sold in the general admission area, which is not accessible by lift. If disabled customers wish to purchase merchandise their carers are welcome to enter the general admission area after the show to purchase merchandise on their behalf. Security staff may also be able to assist in facilitating merchandise being purchased.