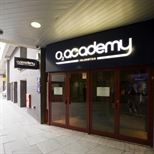 Tickets for events at O2 Academy2 Islington
O2 Academy2 Islington tickets
Book Tickets: To purchase tickets in person, O2 Academy Islington Box Office is open for cash ticket sales between 12pm-4pm, Monday Saturday. Tickets are also available from O2 Shepherd's Bush Empire from 4pm on show days and O2 Academy Brixton 2 hours before door times on show days please see venue listings for opening times (no booking fee charged on cash transactions). Public holidays may vary Door sales on the night of a show are CASH ONLY. Local outlet: Stargreen 020 7734 8932or www.stargreen.com Disabled Bookings: Customers requiring access to the disabled area at O2 Academy Islington can purchase tickets through any agency and then must contact the venue on 020 7288 4410 between 10am and 6pm (Monday-Friday) or email disabledbookings@o2academyislington.co.uk with requirements so the appropriate provisions can be made. The disabled access area is not static and is created on a show by show basis depending upon the number of people requiring access. If you are registered disabled you are entitled to be accompanied by a free carer so please take this into consideration when booking your ticket(s). Age Restrictions: Gigs: Under 14s must be accompanied by an adult. Minimum age 8 Clubs: Strictly over 18s (Photographic ID may be required) About O2 Academy Islington saw AMGs venue estate in London reach four incredible spaces. Since opening in September 2003, the intimate venue has welcomed some of todays biggest international artists to the smaller stage, including American hip-hop legend, Eminem. AMGs venue assets in the Capital covers the perfect range of sites to facilitate any event from the 250 capacity O2 Academy 2 Islington, the 800 capacity O2 Academy Islington, 2,000 capacity O2 Shepherds Bush Empire to the 4,921 capacity O2 Academy Brixton, assuring promoters that AMG can present bands at all levels of success, genre, vibe and orientation to music lovers in London. Merchandise The merchandise area for Academy2 is accessible when in use. The merchandise area for the main room can be accessed by the N1 Centre lift, Please inform security if you would like to purchase merchandise and they will assist. Strobe Lighting Events will use strobes effect lighting on most shows signs are displayed as such, on shows with a higher than usual amount/level of this effect extra signage is displayed. Details of nearby accessible hotels, bars and restaurants can be found on: www.directenquiries.com
By Tube
Angel (Northern Line) The nearest tube station is Angel which is situated on the Northern Line which is not an accessible station.
By Train
For up to date travel information call 020 7222 1234 (24 hours) or visit www.tfl.gov.uk The closest accessible station is Kings Cross St. Pancras, which is served by a number of underground and overground services. Kings Cross to Angel is then served by Bus numbers 476, 73 & 30.
By Car
To find O2 Academy Islington visit maps.google.co.uk Travel information in and around London visit www.tfl.gov.uk For customised travel plans, please use TFLs Journey Planner http://journeyplanner.tfl.gov.uk/
By Bus
For up to date travel information call 020 7222 1234 (24 hours) or visit www.tfl.gov.uk Buses from Kings Cross depart from stop E and arrive at Bus Stop X or Y on Upper Street which are approximately 85m from the entrance of O2 Academy Islington. There is an accessible ramp from the bus stops to pavement level on Upper Street or steps (12).
Parking
N1 Centre, Islington - www.n1islington.com/find-us/ The N1 Shopping Centre has a customer car park, which has a number of disabled parking spaces. The car park is served by a lift which serves both O2 Academy Islington (Ground Floor) and O2 Academy2 Islington (First Floor) www.n1islington.com
Wheelchair Access
Access Booking Tickets To book tickets for O2 Academy Islington and O2 Academy2 Islington. Please book your ticket through www.ticketweb.co.uk and then contact the venue on 020 7288 4410 or email disabledbookings@o2academyislington.co.uk to discuss arrangements and organise your companion ticket should one be required. Once you have been in contact with the venue you will be sent an email confirmation that should be printed off and brought with you when you attend the event. You can also contact the box office through text relay by 18002 020 7288 4410 should this be required. Companion/Carer Ticket This venue offers one free companion ticket. This can be booked by contacting the venue directly. These can be limited in availability so please ensure you contact the venue as soon as possible to arrange. Companion/carer ticket holders should be able to meet the needs and assist the person they are accompanying in the event of an emergency. Braille Braille information sheets are available on request please call 02072884410 or email disabledbookings@o2academyislington.co.uk Arriving at the Venue We recommend arriving at the venue 10-15 minutes prior to the doors opening. The door time will be stated on the tickets or confirmations. Please try to arrive at the venue no later than 60 minutes after the doors open. On arrival please go to the relevant box office for your event, if your event is in O2 Academy Islington, the entrance is on the ground floor of the N1 Shopping Centre opposite the pedestrian car park entrance. For O2 Academy2 Islington, the entrance is on the first floor opposite Vue Cinema, next door to Yo Sushi restaurant. Accessible Area & Facilities The area at O2 Academy Islington is created on a show by show basis and is either located facing the right hand of the stage or in the mezzanine area. Both can be accessed via a lift. The area can accommodate a total of two wheelchairs with 7 seats. The area at O2 Academy2 Islington is created on a show by show basis and will be subject to the requirements of the customers. There are 2 accessible toilets in O2 Academy Islington and 1 in O2 Academy2 Islington; neither requires a radar key. Bar Service The bars adjacent to the disabled areas do not have lowered sections. Both areas are manned by security who are happy to assist should the need arise. Box Office Please be aware that the box office doesn't have an induction loop fitted. Both box offices are at an accessible height for wheelchair users.