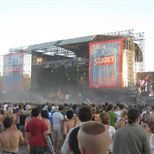 Tickets for events at Obudai Island
Sorry, there are no shows on sale at Obudai Island right now.
Obudai Island or Obuda Island is one of the Danube's Islands in Budapest. It plays host to the Sziget Festival every year which has won many awards including 'Best Major European Festival'. It was nicknamed Shipyard Island because it was once the southern end of the Obuda Shipyard. This beautiful location is a perfect place for a festival.
Wheelchair Access
There is wheelchair access.
General Access Info
There are disabled facilities.