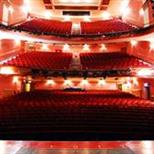 Tickets for events at Piccadilly Theatre
At its grand opening in April 1928, the Piccadilly Theatre was one of the largest theatres to be built in London, as its souvenir brochure claimed, "If all the bricks used in the building were laid in a straight line, they would stretch from London to Paris". The opening production starred one of the most acclaimed actresses of the period, Miss Evelyn Laye. In its early days, the Piccadilly operated as a cinema and made entertainment history when it premiered the very first talking picture to be shown in Britain, The Singing Fool with Al Jolson. He also opened the Jazz Singer in 1928 and appeared afterwards on-stage to sing Mammie. The Piccadilly has presented most forms of stage entertainment from Who's Afraid of Virginia Wolf? (with its original Broadway cast) to A Night with Dame Edna. There have been a variety of Royal Shakespeare Company productions including Edward II starring Ian McKellen, and Henry Fonda also made his West End debut in the solo play, Clarence Darrow and Y. The 1990s witnessed an expansion in musicals, ballet and dance, notably the most successful commercial ballet season ever to play in the West End, with Adventures in Motion Pictures' Swan Lake. The Piccadilly has been home to a season of plays directed by Sir Peter Hall, starring famous names such as Judi Dench, Michael Pennington, Julia MacKenzie and Eric Sykes. It has also hosted the smash-hit musical Spend Spend Spend starring the Olivier award-winning actress, Barbara Dickson, the sell-out run of Shockheaded Peter, Noises Off starring Lynn Redgrave, Ragtime,the transfer of the National Theatre''s acclaimed production of Jumpers and most recently Jailhouse Rock.
By Tube
The nearest tube station to the Piccadilly Theatre is Piccadilly Circus, which is the recommended way to arrive at the theatre given the high levels of traffic around the centre of London. The station is accessible on the Piccadilly line, although if you are coming from elsewhere in the city and would like to avoid changing lines you can also walk to the theatre from either Leicester Square or Charing Cross stations, accessible from the Northern and Bakerloo lines.
By Train
Charing Cross is a mainline train station with connections to other parts of the country and a short walk away from the theatre.
By Car
It is advised to travel to the theatre on public transport but if you have to drive then please see the parking info below.
By Bus
You can get numbers 24, 29 and 176.
Parking
If you prefer to drive to the theatre the nearest car park is on Denman Street, with a tariff of £1.80 per 15 minutes and a maximum charge of £32.00. There is also a car park on Brewer Street where you can pay £26.00 for 4 hours of parking, or alternatively there are meters on Archer Street and Brewer Street that charge £4.40 per hour, although these can get busy on evenings and weekends in particular.
Wheelchair Access
Wheelchairs enter via the side entrance in Sherwood Street into a box (entrance is 65cm wide) which has space for 2 wheelchair users and their companions. 2 more wheelchairs can be accommodated in row A of the Royal Circle. Please contact the venue for more information and to book.
Hearing Systems
There are loops in the box office and infra-red available in the auditorium.
Guide Dogs
There are 3 guide dogs are allowed at each performance but not permitted inside the auditorium. The venue staff can look after them.
General Access Info
For all disabled information and bookings please call 0844 871 7627.