Help
Already have an order with SeeTickets.com?
Click the "import order details" button to populate the voucher. You will need:
Your See Tickets reference number
The postcode you used when placing the order
The email address you used when placing the order
Can't remember your order details?
You can click any part of the voucher to edit the text.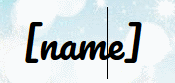 How to update the style / colour of the text
Double click or highlight any are and the below box should appear:

Select any of these options to update the highlighted text.