AHA! I'm Alan Partridge
Gorilla, Manchester.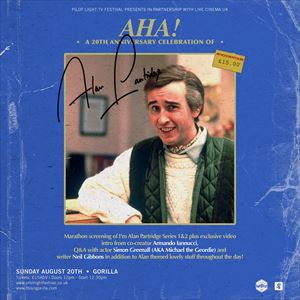 14s - 17s must be accompanied by an adult. No refunds will be given for incorrectly booked tickets.
More information about AHA! I'm Alan Partridge tickets
Alan Partridge is a fictional character so engrained in British culture that you are highly likely to encounter a 'Partridge' reference, catchphrase or mannerism in any given situation in your modern day to day life. Such is the genius impact of this character, originally created by Steve Coogan and Armando Iannucci for the 1991 BBC Radio 4 comedy programme On the Hour.

On its 20th anniversary Pilot Light TV Festival & Gorilla honour one of Alan's most celebrated pieces of Television: I'm Alan Partridge. On August 20th Gorilla will be hosting a marathon of both series of the BBC show with an exclusive video introduction from co-creator of the show Armando Iannucci, a Q&A with actor Simon Greenall (AKA Michael the Geordie) & writer Neil Gibbons plus Alan themed lovely stuff throughout the day.
AHA! Is a celebration of one of England's most valued national treasures and icons, Alan Partridge. Known for his mostly outstanding contribution to British television, film, radio and literature; Alan 'The Money' Partridge has become one of the most iconic figures in British culture alongside Jet from Gladiators, Dale Winton and Chris Eubank.
No official dress code is required, but lightweight trousers, padded gilets, driving gloves and blazers bearing the words Knowing Me, Knowing You in Latin (Cognoscens Me, Cognoscens Te – Aha) would be welcomed, or the classic Partridge looks of 'sports casual', 'imperial leisure' and 'strolling pastel' also encouraged.