An Audience with Martin Kemp
Exmouth Pavilion, Devon.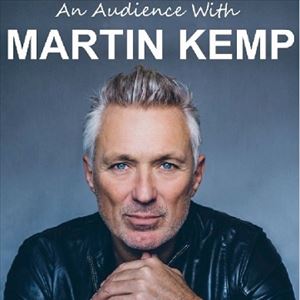 More information about An Audience with Martin Kemp tickets
An Audience with Martin Kemp
With Compere BBC Radio Lincolnshire's HOWARD LEADER.
Join us for this up close and personal evening with Martin Kemp as he discusses his life with Spandau Ballet and beyond, and take the opportunity to ask your own questions...
Martin Kemp is most famed for playing bass guitar in the new romantic band Spandau Ballet. The group went on to tour the world and had a number of Top 20 hits in the 80's. The single 'True' made the American Top 10. The band reformed recently and Martin has spent the last two years touring the world promoting the film 'Soul Boys of the Western World' and playing to sold out arenas at every stop!
Unforgettably Martin has also had a hugely successful film and TV acting career, most notably starring alongside his brother Gary in the film 'The Krays' before moving to Hollywood. He then starred in several films including: Sugar Town opposite Rosanna Arquette, Monk Dawson, Vampires Embrace and Sailors Tatto before returning to Britain.
In 1998 he was offered the role of Steve Owen in the BBC's Bafta Award winning drama series EastEnders, a role he played until March 2002. During that time Martin won numerous awards including Best Male Actor at the National TV Awards. Martin then went on to star in many critically acclaimed roles for ITV dramas such as Daddys Girl, Serious and Organised, Brides in the Bath, The Family and Cant buy me Love.
Martin played the role Will Spencer in the British Feature Film Back In Business, Jacke Afflick in Miss Marple – Sleeping Murder' for ITV and Mark Terry in Love Lies Bleeding, which also starred Hugo Speer and Claire Goose. The Best Years, Assassin with and Age of Kill where he takes the lead as British spy Sam Blake,
Martin has directed two feature films Stalker a horror/thriller and Top Dog a gritty movie for Universal.
His book 'True – An Autobiography of Martin Kemp' was published in 2000 and spent several months in the Sunday Times best sellers list.
Most recently, Martin Kemp is one of the judges on Gary Barlow's new show "Let It Shine" alongside Dannii Minogue, Amber Riley and Gary himself plus other guest judges.
HOWARD LEADER
Howard was trained at the Guildford School of Acting and has worked in entertainment for more than thirty years broadcasting, reporting and touring widely, working in rep and in London's West End. His acting highlights include four years with the BBC's Allo Allo, in the stage version at the London Palladium in roll of General Von Schmelling, and appearances in three of the TV series. Tours include Piaf. The Snowman, Live Bed Show, Spider's Web, And Then There Were None, Me and My Girl and Revenge. Howard is a regular in panto and his 24 professional seasons include three productions with the great Roy Hudd. Howard began broadcasting at Essex Radio in 1984, transferring to the BBC in 1989 when, for five years, he was a presenter on Esther Rantzen's TV show That's Life! Since then Howard has continued to combine theatre and broadcasting. His long running nostalgia music and history programme on BBC Radio Kent transferred to BBC Lincolnshire twelve years ago and can be heard every Sunday afternoon between 3 and 6pm on BBC Lincolnshire and BBC Humberside. His work as a reporter and documentary filmmaker has taken him to Russia, Taiwan, the Ukraine, Bosnia, Malaysia, Croatia, Sierra Leone, Canada, America, Falkland Islands, the Middle East and Afghanistan.