Chappel Beer Festival 2017 - Fri eve admission
East Anglian Railway Museum, Wakes Colne, Essex.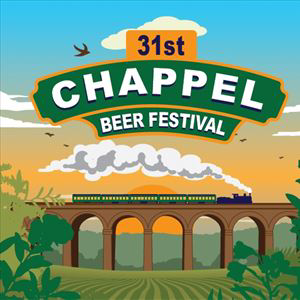 Advanced Friday evening Tickets for 2017 Chappel Beer Festival
Under 18s must be accompanied by an adult. We cannot issue refunds to under 18s who are not accompanied by an adult.
More information about Chappel Beer Festival 2017 - Fri eve admission tickets
This ticket price includesadmission, refundable glass deposit and a £10 starter pack of beer tokens.
NOTE: Everyone who buys a Member ticket *MUST* carry and show the relevant membership card on the door, we cannot look these details up at the door, and if you do not have a valid current membership card you will be asked to pay the difference on the door.
Remember you need a ticket if you plan to ARRIVE after 17:30 on the Friday. We do this to help control numbers on Friday night. If you are on site BEFORE 17:30 on Friday you DO NOT need a ticket. You DO NOT need a ticket for admission on any other day its cash on the door.
If you've visited this should be familiar, If this is your first visit, we try and make it so you the ticket covers admission, glass and a starter token card. We've used this method for a few years now and know it helps speed up the door process, and gets you to your first beer faster, rather than split out the parts and you have to queue a few times before you can even go to the bar.
Tickets are scanned / validated on the door, please remember to print and bring the actual ticket part that is sent as a PDF to you (it will have a barcode and QR code on it) and NOT the receipt email. While we can usually read tickets off smartphones, sometimes the reflective nature of screens can make it hard, if possible print the tickets out and hand them to each member of your party, this will also get you to your beer faster.