HAYSEED DIXIE
Under The Bridge, Fulham, London.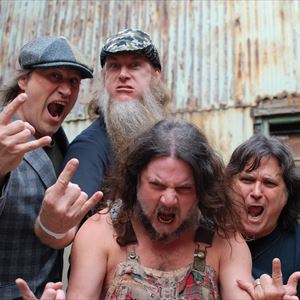 14s - 17s must be accompanied by an adult. No refunds will be given for incorrectly booked tickets.
More information about HAYSEED DIXIE tickets
AGMP presents
HAYSEED DIXIE
+ support
"Superlative musicians with a deep love and understanding of the dynamics of both modern rock and ancient hillbilly music" - The Times
"I enjoyed this and on further investigation, it's not good...it's fabulous!" – Brian May, Queen
Hayseed Dixie began one innocent Summer day in 2000 when John Wheeler and Mike Daly discovered that the Lost Highway of Reverend Hank Williams and the Highway to Hell of Bishop Bon Scott were indeed the same identical stretch of tarmac, they were well and truly prepared to document this revelation in situ.
Now, functioning well as "Exhibit A" in the demonstration of how one's beginnings rarely know one's ends, Hayseed Dixie have evolved into a proper force, one that most people either love, hate, or have never heard of. There isn't really any middle ground, nor should there be. But fourteen albums - consisting of both original material and reinterpretations of previously rendered songs - and global physical *sales in excess of half a million copies, with over 1,200 live shows in 31 different countries testify: Hayseed Dixie are the undisputed creators of the musical genre, Rockgrass. There are many copycats, converts, and disciples out there. Accept no imitations.
New Album "Free Your Mind And Your Grass Will Follow" is out now.