Jake & Elwood with the Black Rhino Band
Robin 2, Wolverhampton.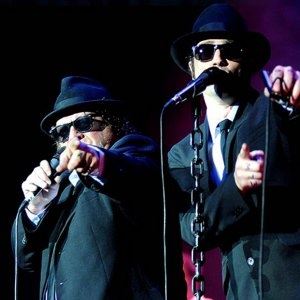 The best Blues Brothers band in the world!
No under 14s in the standing area, 17 - 17s must be accompanied by an adult. No refunds will be given for incorrectly booked tickets.
More information about Jake & Elwood with the Black Rhino Band tickets
On stage 8.45pm till late
All the classics from the classic Blues Brothers film
Music & mayhem live on stage with the crazy Joliet Jake Blues
Come on down with your pork pie hats
Prizes for the best Blues Brothers gear
Born in Derbyshire, UK, Joliet Jake Blues (as he is now known) is a contemporary of the late John Belushi with a show business career spanning almost thirty years.
Jake began life as a drummer with local 'beat' groups before moving on to team up with Elwood and use his amazing 'whiskey' voice to launch what was probably the first UK band to play full homage to "The Blues Brothers".
Although enjoying a wide fan base, our two heroes, like the original movie, became something of an underground hit and developed a cult following. It was only when they began to perform in the UK theatres, and were exposed to a wider audience, that they began to enjoy their well deserved success.
Jake once cited, as his 'best moment', the time when he and partner, Elwood, were invited onto the stage at Shepherds Bush Empire in London. Here they joined the "Original Blues Brothers Band" from the film, featuring Stax guitarist and composer, Steve 'The Colonel' Cropper, as well as trumpeter Alan 'Mr. Fabulous' Rubin, sax player Lou 'Blue Lou' Marini and Eddie Floyd.
During 'Soul Man', Jake performed a cartwheel, and after the show, Steve Cropper commented with a wry smile...
"When Belushi did his cartwheels, we all gotten out of the way in case he broke our instruments. Watching you brought it all back!"
Jake has met and worked with many 'star' names, including Sir Paul McCartney, The Corrs, Ronan Keating and Spandau Ballet to name but a few, but when asked about his appearance with The Original Blues Brothers band....
"It was like a dream come true, if only Dan Aykroyd had been there!"
Elwood
On stage he will have you believe he comes from Chicago, but out of the suit and dark glasses, Elwood conducts his dialogue with a wonderful Scouse accent revealing his true roots of Liverpool. The Blues Brothers music has been his life. His only other band being ..... a Blues Brothers Tribute Band ..... but we don't hold that against him as that was seven years ago.
His musical influences include Sam & Dave, Otis Redding, and, of course, The Beatles. Elwood has played at a host of venues worldwide, but states that his best ever gig was when the band performed at Earls Court in London with a galaxy of superstars.
Talking of London gigs - Back to Shepherds Bush Empire. It was Alan Rubin who paid our Elwood with the highest accolade when he said, "Watching you was just like watching Danny (Aykroyd), you've got his expressions and mannerisms down to a fine art."
With Steve Cropper commenting,
"..... you're even the same height as Danny ....."
And Elwood's memory of the night:
"It was an amazing feeling to be performing 'Soul Man' with Steve Cropper behind me - probably the best feeling ever!"
As Elwood's favourite scene in the original movie is in the ballroom, it was fitting that he was able to join these 'all-time greats' in singing 'Everybody Needs Somebody'.
This Elwood is one of only a handful of "Elwoods" who can actually play the Harmonica 'live', and play it he does - truly from the heart. His energetic dancing, his natural singing voice, together with the great rapport he has with Jake, makes him a joy to watch.
https://www.youtube.com/watch?v=0Lkg-lHVEC8