Len Price 3
Westgarth Social Club, Middlesbrough.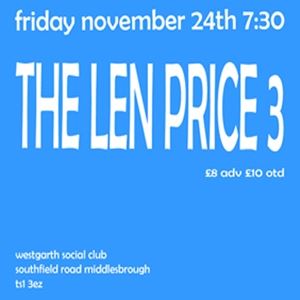 The return to the North East of Medways finest!
More information about Len Price 3 tickets
The Len Price 3 are an adrenaline pumped pop band from England, forged in the traditions of their Medway Delta roots.
They are a revelation to those who encounter them, encompassing all of what you would want from a band in one invigorating sonic experience. Their dazzling live performances feature a thunderous set of well-honed melodic nuggets played at breakneck speed, complete with shiny pop hooks and chrome glazed harmonies. But dig a bit deeper and you will find a rich lyrical content that is full of acid tongued lyrics and wry social observations.
With each album and single release receiving glowing reviews and every live show leaving behind a highly satisfied audience full of enthusiastic devotees, The Len Price 3 are fast becoming a true national treasure…