Martin Turner Ex Wishbone Ash Worthing Pier
Worthing Piers Southern Pavilion, Worthing.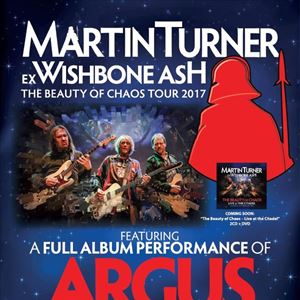 This event is for over 18s only - No refunds will be issued for under 18s.
More information about Martin Turner Ex Wishbone Ash Worthing Pier tickets
We are pleased to announce that Martin Turner's "The Beauty of Chaos" 2017 tour will feature the addition of a complete performance of Wishbone Ash's seminal 1972 album "ARGUS" to the band's performance on the night which will also include other Wishbone Ash classics as well as some of Martin Turners latter achievements .
"Argus" was voted "Album of the Year" in "Melody Maker" and "NME" polls and achieved a #2 UK chart position. It remains one of the most enduring works of the classic rock era.
With millions of album sales and concert attendances worldwide, Wishbone Ash's heritage as one of the most enduring and best loved British rock acts is assured.
Classic album releases such as Argus, Pilgrimage, There's the Rub, New England and Live Dates defined the Wishbone Ash sound and have touched the hearts of several generations of music fans. Martin Turner, the definitive voice, creative force and founding member of the British rock legends, continues to perform the band's best loved works with his current line-up - guitarists Danny Willson and Misha Nikolic plus drummer Tim Brown - and remains faithful to the original Wishbone Ash blueprint.
This a very rare treat to see someone of his calibre close up in an intimate and atmospheric venue so don't miss out..this will sell out the last one did.
Doors open 7pm Show starts 8pm

Unreserved seating and standingso get here early
Tickets available from www.worthingpier.co.uk
or the Southern Pavilion Cafe in person
There are pillars that may restrict viewing
Follow us on twitter WorthingPierSouthPav (@WorthingPierPav)
Southern Pavilion is the building at the sea end of the pier