Miranda Sings
Usher Hall, Edinburgh.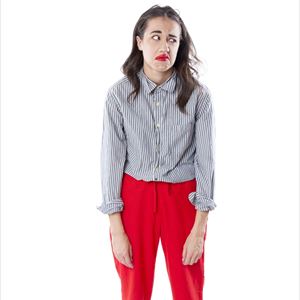 Under 14s must be accompanied by an adult. We cannot issue refunds to under 14s who are not accompanied by an adult.
More information about Miranda Sings tickets
Please note the show may contain adult themes
Colleen Ballinger is an actress, comedian and singer, most famous for her character Miranda Sings. Miranda Sings has become an international phenomenon whose YouTube channel has amassed over 7 million devoted subscribers and over a billion views. The character Miranda was created in 2008 to parody the young, self-absorbed singers with more far more confidence (and vibrato) than talent which Colleen saw uploading videos to YouTube. Miranda is known for her overdrawn red lips, questionable advice about singing and life, a deluded self-confidence, and over-the-top rants about her family and personal problems.
Miranda Sings is a character created by comedian and singer Colleen Ballinger. Her videos have gone viral with over 24 million views on YouTube. The character of Miranda Sings is a satire of increasingly common YouTube videos featuring mediocre or even bad, but egotistical, singers who film themselves singing as a form of self-promotion, and who ignore the realistic or cruel comments of "haters" commenting on their videos. Miranda Sings is from Tacoma, Washington. She sings comically off-key, is self-absorbed and has a sassy attitude. She responds to viewers who take the videos seriously with the catchphrase "Haters back off!" telling her critics that they are "just jealous" and that "haters make me famous". The character includes facial tics, particularly unusually active eyebrows, a crooked smile and pronunciation quirks. In place of lyrics that she cannot remember, the character "scat" sings. She also wears lipstick drawn beyond the borders of her lips, dresses in mismatched and out-of-style clothing