Natalie McCool / with special guest Eleanor Nelly
Alexander's, Chester.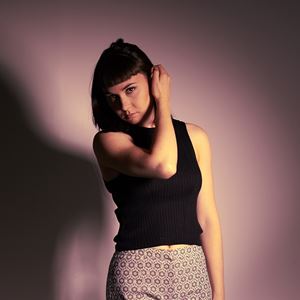 More information about Natalie McCool / with special guest Eleanor Nelly tickets
£7 adv / £10 otd / £5 nus
NATALIE MCCOOL is a singer, songwriter and multi instrumentalist has picked up a steadily growing support base of fans and critics alike with her truly innovative and beautiful take on pop music. 'The Great Unknown' is the follow up to 2013's eponymously titled debut and was recorded and produced with Dave Berger from Outfit at Schall Und Wahn in Liverpool. Out now on iTunes & Spotify the album also features additional production and mixes on singles by Rich Turvey (Blossoms, Clean Cut Kid, Cabbage) and is without doubt McCool's finest and most accomplished set of songs to date.
Perfect future pop that sets Natalie apart from her contemporaries, her early work was built on a foundation of deliciously dark indie-pop. 'The Great Unknown' is an new awakening - emerging from the shadows and rising victoriously, a number of prickly pop tunes like Huw Stephens favourite 'Pins' and rousing epic numbers like 'Fortress' envelop subtly emotive songs such as BBC Radio 1 playlisted 'Cardiac Arrest'.
Vibrant with effortlessly catchy songs, McCool can count The Sunday Times, Wonderland, Q, Clash, Line of Best Fit, The 405, Huw Stephens and Alice Levine amongst her fans, while BBC Introducing described the artist as "one of the finest emerging songwriters around".
Quotes
"Quickly buries itself under your skin with its mechanically brushed drums and jazz-inflected pangs of lovesick fragility." Q
"Mesmerising lilt-pop gem."
The Sunday Times
https://www.nataliemccool.co.uk
ELEANOR NELLY is a teenager with influences one will find in the record collections of those 3 or 4 times her age. She is the hard-working, naturally talented poster girl record labels dream of.
Having started out gigging around Liverpool from the tender age of 13, she has now risen to fame, from scooping her first 'One to Watch' accolade at Liverpool International Music Festival (LIMF) 2015, honing her song writing skills, she has developed an enviable style which then saw her recognized as 'Most Ready Artist' at LIMF 2016 and has since secured a phenomenal record deal with Decca Records, earlier this year.
Eleanor is one who shuns convention, visually and sonically. With the aura of a hardened troubadour, her stage presence transfixes any audience, whether it be with unique interpretations of the songs of others, or her burgeoning skill as a songwriter. Fresh from a recent song-writing stint in Nashville, USA, Eleanor, is bringing her unique blend of country, rock'n'roll and blues to MFTGG, still 'One to Watch' and one you definitely won't want to miss!
https://www.facebook.com/EleanorNellyMusic/