The Black Sorrows
Nells Jazz & Blues, London.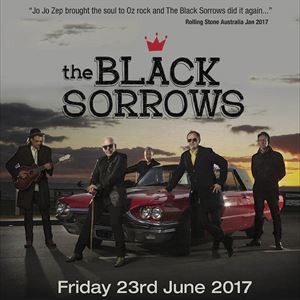 Club Show. Seats will be allocated on a first come, first served basis.
Please note venue has limited sightlines.

3 North End Crescent,
West Kensington,
London.
W14 8TG

Nearest Tube - West Kensington Station (3mins)
Bus - 74, 190, 430, N74 & N97
Taxi - 30 yds

info@nellsjazzandblues.com



More information about The Black Sorrows tickets
Any examination of The Black Sorrows inevitably comes down to one person. Joe Camilleri (singer, songwriter, saxophonist, producer and the brains behind The Black Sorrows) is considered one of the most genuinely talented figures in Australian music.
"I was just into music," says Joe of his earliest days playing in bands. "That was all I was interested in. I would live it, breathe it, eat it." Forty-eight albums later, his 20th – Faithful Satellite – with The Black Sorrows, and if anything he's even more passionate than he ever was.
The Black Sorrows continue to be one of Australia's most enduring touring bands earning the reputation as a dynamic live act and festival favourite. There is a level of accessibility to their music that will appeal to the newest of fan. With Camilleri at the helm, the band deliver a glorious potpourri that takes in gospel, zydeco, reggae, Texas swing, old-school R&B, soul, gospel, dub, even noir.
Recently awarded "living legend" status by Rolling Stone Australia, Joe Camilleri has kicked a staggering number of goals over his 50+ years in music as a singer, songwriter, musician, performer and producer at the top of his game. Over the years other greats have admired Camilleri's songwriting. Elvis Costello and John Denver are just two who have recorded versions of Joe's songs.
As frontman of the seminal 70's band, Jo Jo Zep & The Falcons, with hits Shape I'm In, So Young and Hit and Run, Joe was inducted into the ARIA Hall of Fame in 2007. With The Black Sorrows, there have been hits not only in Australia but also in Europe. Touring there several times playing songs that have become radio staples like Chained to the Wheel, Harley & Rose and Hold On To Me. There was an ARIA Award for Best Group in 1990, and in 2015 their Endless Sleep album was nominated for the 2015 ARIA Award for Best Blues & Roots Album, the band's 19th nomination. Returning for the first time in 20 years, The Black Sorrows toured Scandinavia in support of the release of Endless Sleep that reached #13 on the Euro Americana chart in 2015.
"Music legend Camilleri is a force of nature..commanding the stage with genuine conviction and ability" Planet Arts Melbourne
"Camilleri is an Aussie rock legend and one of this nation's finest performers" Sydney Morning Herald
"Catching the Sorrows' brand of raw, rootsy, hip-shaking rock 'n' roll feels like discovering the best bar band in the world" The National AE Dubai
"From gospel to sweet soul, raw blues to country...one of the most powerful shows in the country" Regional Touring