The Bonzo Doo Dah Dog Band
Junction 2, Cambridge.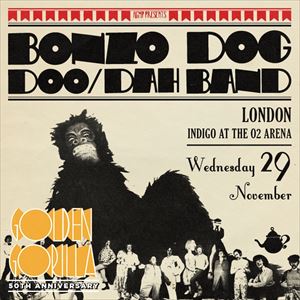 More information about The Bonzo Doo Dah Dog Band tickets
In 1967, The Bonzo Dog Doo Dah Band gave birth to a Gorilla. 50 Years Slater Bonzo co-founder Lord Rodney, with the collusion of Legs Larry Smith, Sam Spoons, Vernon Dudley Bohay-Nowell, Bob Kerr and assorted musical flotsam present The Golden Gorilla Tour by popular demand!

The Bonzos have been touring the USA with Led Zeppelin, scoring a hit single with the Paul McCartney produced 'I'm the Urban Spaceman', appearing in The Beatles' Magical Mystery Tour and performing as the houseband on the proto Monty Python show 'Do Not Adjust Your Set'. They occupy a unique place within the British cultural lexicon, influencing a generation of alternative comics including Stephen Fry, Adrian Edmondson and Bill Bailey along the way, and the story does not stop here.