The Bonzo Dog Doo Dah Band
Sage Two, Gateshead.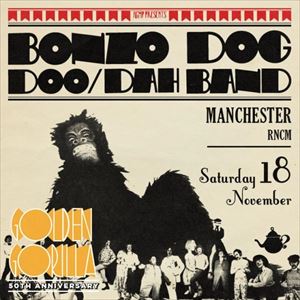 Under 14s must be accompanied by an adult. We cannot issue refunds to under 14s who are not accompanied by an adult.
More information about The Bonzo Dog Doo Dah Band tickets
Formed in 1962 by Vivian Stanshall and Rodney Slater, the band were originally known as the Bonzo Dog Dada Band. Joined shortly after by Vernon Dudley Bohay-Nowell, Sam Spoons, Roger Ruskin Spear, Bob Kerr, "Legs" Larry Smith and Neil Innes, the now classic line up was re-named The Bonzo Dog Doo Dah Band.
The band's debut single was "My Brother makes the Noises for the Talkies" followed shortly by "Alley Oop". Musically the band were in the Trad Jazz / Music Hall bracket at this point but soon changed their sound to dismiss the frequent comparisons that were made to the Temperance Seven and the New Vaudeville Band.
In 1967 Paul McCartney invited the Bonzos to appear in The Beatles film "Magical Mystery Tour" where they performed "Death Cab for Cutie". Around the same time the band became regulars on "Do not adjust your set" along with future members of Monty Python's Flying Circus. The band's debut album "Gorilla" was also released in the same year.
The following year the band had a hit single with "I'm the Urban Spaceman" which was produced by Paul McCartney & Gus Dudgeon. This was followed by follow up albums "The Doughnut in Granny's Greenhouse", "Tadpoles" & "Keynsham". In 1969 the band toured the USA with The Who & The Kinks before dis-banding in early 1970.
In 1967, The Bonzo Dog Doo Dah Band gave birth to a Gorilla. 50 Years Slater Bonzo co-founder Lord Rodney, with the collusion of Legs Larry Smith, Sam Spoons, Vernon Dudley Bohay-Nowell, Bob Kerr and assorted musical flotsam present The Golden Gorilla Tour by popular demand!
The Bonzos have been touring the USA with Led Zeppelin, scoring a hit single with the Paul McCartney produced 'I'm the Urban Spaceman', appearing in The Beatles' Magical Mystery Tour and performing as the houseband on the proto Monty Python show 'Do Not Adjust Your Set'. They occupy a unique place within the British cultural lexicon, influencing a generation of alternative comics including Stephen Fry, Adrian Edmondson and Bill Bailey along the way, and the story does not stop here.