The Dinara Klinton Interview Concert
St Pauls, Worthing.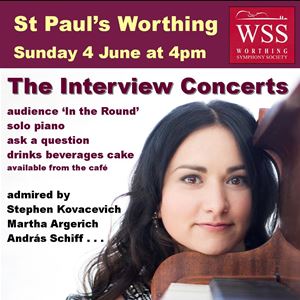 More information about The Dinara Klinton Interview Concert tickets
The Interview Concerts are moving great classical onto the music menu at St Paul's. On Sunday 4th June at 3.45pm they will start surprising and enthralling audiences at this progressive and popular central Worthing venue. And Sunday afternoon is seen as an ideal time to explore and get into this area of music.
Music audience connection with their performers does not get more close or immediate than in these innovative concerts. They feature young and superbly vital international artistes whose exceptional personalities shine through in conversation about themselves and the music they are about to play. Audience questions are included and it all happens 'In The Round', which creates a new concert experience with a compelling extra social dimension.
We are delighted to host this novel approach to classical music concerts. Get up-close and personal with the acts in our stunning venue with its perfect acoustics.
The first Interview Concert at St Paul's represents a coup. It will showcase Ukrainian pianist Dinara Klinton, 28, whose 2016 album of music by Liszt, recorded in Leipzig, created amazement and astonishment. World piano maestro Sir Andras Schiff signed her up to his European and American concert series in Frankfurt, Berlin, Zurich and New York. Stephen Kovacevich also marvelled, and the CD received a BBC Music Magazine award.
Details of Dinara Klinton's concert will be announced soon


Bach-Busoni: Prelude & Fugue in D BWV 532
Medtner: Sonata Romantica
Beethoven: 'Moonlight' Sonata
Liszt: Transcendental Études No 6 'Vision', No 7 'Eroica'