The Telescopes Folk Devils Inca Babies Eton Crop
Westgarth Social Club, Middlesbrough.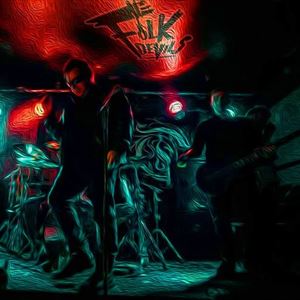 More information about The Telescopes Folk Devils Inca Babies Eton Crop tickets
PEEL REGENERATED 4 (13 Peel sessions between The Telescopes, Folk Devils, Inca Babies & Eton Crop).

Founded in 1987 by Stephen Lawrie. The Telescopes have been mining a unique anti-myopian seam of highly influential experimental, drone, noise, dream & psych for over 20 years.

Their first record was a split flex-disc with Loop on Cheree Records. After a further two critically acclaimed singles for the label, they moved to What Goes On Records, where they released another two EPs and their debut album "Taste". All of which found their way to the top of the UK independent charts, gathering 'single of the week' / 'album of the month' status in all of the British music papers of the time.

Tours followed with Spacemen 3, Primal Scream and The Jesus and Mary Chain. And it wasn't long before The Telescopes were headliners themselves. Bark Psychosis, Whipping Boy, Slowdive, Bleach, The Cranes and Ride all played some of their earlier shows supporting them.

In 2011 they were invited by Portishead to play at the first ever ATP festival at Alexandre Palace in London. The following year The Black Angels / Reverberation Appreciation Society invited them to Austin Psych Fest 2012.

Following the release of their 7th LP, "Harm", on Seattle-based label Neon Sigh, the group toured almost non stop over the following two years. Covering Scandinavia, Europe, Russia, Latvia, Estonia, the Ukraine, the UK, USA, the Middle East, and Ireland.

Meanwhile, The Telescopes have signed with Hamburg's Tapete Records. A new album, "Hidden Fields", The Telescopes 8th, is scheduled for release in August of 2015. Recorded in Glasgow, with St deluxe. "Hidden Fields" is an unexpected return from the group's recent expeditions into the outer reaches of freedrone noise. The psychiatric sounds of The Telescopes in a concise inner sensory rush. This is their most song based output for some time.

"Every sound you ever heard was but a preliminary exercise in hearing, for the all embracing maelstrom of The Telescopes" (Melody Maker, 1989)

Keep a watchful ear …


Named after Stanley Cohen's book on youth subcultures "Folk Devils and Moral Panics", this highly underrated British band was as far as one could get from 'folk music' at the time. They were formed by Ian Lowery (formerly of The Wall and Ski Patrol) in late 1983 with a line up that consisted of Mark Whiteley (Bass), Kris Jozajtis (Guitar) and Alan Cole (Drums). Throughout their short lifespan, the band released several acclaimed independent singles including "Hank Turns Blue", "Beautiful Monster", 1985's "Fire And Chrome" EP, and recorded three sessions for BBC Radio's John Peel Show. The band was short-lived yet burned brightly for two years and was very active on the UK live scene sharing bills with Nick Cave, The Gun Club, The Fall and Spacemen 3. The Gun Club are an apt reference point for the Folk Devils sound, intense bluesy punk with a touch of 'billy. Sadly, Ian Lowery passed away in 2001, age 45.

Now some 30 years later, Kris and Mark decided to reform for a handful of shows to celebrate the recent release of their recorded works anthology "Beautiful Monsters" (Singles & Demo Recordings 1984-86) by Optic Nerve and to honour the memory of their friend and former frontman. They are joined by John Hamilton (who played drums in a second incarnation of Folk Devils from 1986-87) and Dave Hodgson on vocals, former singer for post-punk band Parting Shots. We're privileged to have secured one of these shows for Peel Regenerated which is set to take place on Saturday, 28th October, 2017.

https://www.facebook.com/Folk-Devils-208548442489586/…

Eton Crop were an indie band formed in 1979 in Nieuwkoop, Netherlands, and released a total of 12 singles and four albums over the next 15 years. Frequent visitors to the UK, they toured with many of the "pre-C86" groups like The Membranes and The Three Johns, the latter with whom they shared a not too dissimilar musical approach. While many groups from that era downed tools towards the end of the decade, Eton Crop battled on into the mid-nineties, their last full length album, Get Real!, appearing (on cd) in 1992, eventually bowing out in 1994 with the 4 track ep Everybody. The band later changed their name to the E.C. Groove Society and started producing techno music until 2003. Recently the band reformed under Eton Crop and performed in Stockton on Tees, UK at the Peel Regenerated Festival in 2014.

Local bands Junior Elvis,
Pellethead, Year of Birds and Sunderland's Sound Reaction have all been added to the line-up.