The Wise Naive EP Launch Party
The Met Lounge, Peterborough.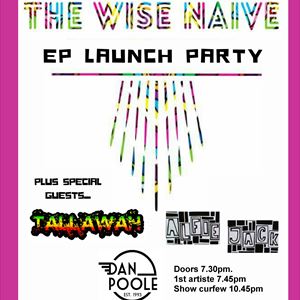 Free entry to after show club night for all 18+ attendees at the show!
14+ only. 14s to 15s must be accompanied by an adult. No refunds will be given for incorrectly booked tickets.
More information about The Wise Naive EP Launch Party tickets
The time has arrived for The Wise Naïve to launch their first EP! Save the date & prepare yourself for a night of groove and dirty moves. Fancy watching a ten piece band funk the night away on the Met Lounge stage? This is the perfect event for you.
https://www.facebook.com/thewisenaive/

SUPPORT FROM:
TALLAWAH Formed in September 2011, Tallawah is a Peterborough based Reggae band. We keep it small and simple and always true to the spirit of the music. Although Reggae is our main fare, we also mix it up with a few of our rock favourites, including some Led Zeppelin and Pink Floyd, done in our own inimitable style of course. We also do original songs and some Funk numbers which have been met with great appreciation. Tallawah by name, Tallawah by nature! We play Reggae music and we feel uplifted. Jamaica has given us 'Tallawah' which means 'small but tough' and that we certainly are. Look out for us as we will be popping up at a place near you sometime and inviting you to come and feel the vibe with us.


DAN POOLE
https://www.facebook.com/TheDanielPoole/
From designing his own logo, taking his own promo shots to recording and mixing his own music, Dan Poole reinvents the meaning of a complete DIY artist. Taking inspiration from such diverse artists such as Frank Turner and Tim Minchin, Dan Poole really does bring a sense of uniqueness to his music. By combining acoustic guitar and complete simpleness in all his lyrics, he's bound to make you laugh and smile.

''My songs are a journal of how I feel, and I have no problem explaining my lyrics to people. It annoys me when people say that music is travelling in the wrong direction; how can it be when there are still singer/songwriters out there writing music that they love; music isn't something in the charts that only clubs play, it's something that we all have and we all love.'' says Dan. Whether its lyrics describing his hatred for 20th century pop culture in fashion and strange hipster movements, Dan's lyrics are sure to relate to anyone putting a very definable feel to all his songs
&

ALFIE JACK
https://www.facebook.com/alfiejackmusic/
Combining a punchy chorus with thought provoking lyrics, Alfie Jack channel their youthful exuberance in a creative, alt pop sound, tackling relevant themes of boyish realism and defying social norms. Living in rural Lincolnshire, the brothers, George Alfie and Freddie Jack, craft and create their own music, artwork and videos. Taking the D.I.Y. approach to their art and sound. Alfie Jack have been writing and performing since 2012 and have homegrown their following from the ground up. More recently, they have had support from BBC Introducing in Lincolnshire and from that, have been invited to play at their curated event 'Plugged' at the Lincoln Engine Shed and do a live session for their weekly radio show.