Therapy? Wood and Wire Acoustic Show
Nells Jazz & Blues, London.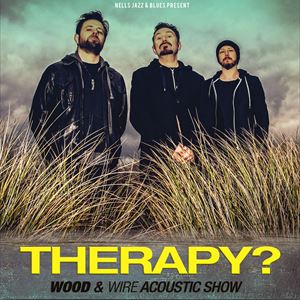 Nell's Jazz and Blues
West Kensington,
London.
W14 8TG
Nearest Tube - West Kensington Station (3mins)
Bus - 74, 190, 430, N74 & N97
Taxi - 30 yds
info@nellsjazzandblues.com
More information about Therapy? Wood and Wire Acoustic Show tickets
Therapy? have drawn upon the attendant feelings of alienation, frustration and dislocation for strength and inspiration across their remarkable 26 year career, crafting a dark, idiosyncratic worldview which has garnered the group a reputation as one of the most uncompromising, creative and individualistic bands of their generation. Disquiet, the bands fourteenth studio album, extends this proud legacy, and finds the trio of Cairns, bassist Michael McKeegan and drummer Neil Cooper in incendiary form. Therapy?s first recording for new label Amazing Record Co., Disquiet is 11 tracks of charged, in-your-face, bruisingly melodic punk/metal. A sequel of sorts to the bands million-selling 1994 album Troublegum, its by turns confrontational, challenging, vengeful and venomous, a visceral and utterly compelling document of a confident band operating at the peak of their powers. Produced by Tom Dalgety (Royal Blood/Band of Skulls/Turbowolf) at Blast studios in Newcastle-upon-Tyne and featuring cover art by long time collaborator Nigel Rolfe (Troublegum, Suicide Pact You First, A Brief Crack Of Light), its both the most accessible record Therapy? have made in two decades, and a reaffirmation of their healthy respect for noise, chaos and unsettling psychodrama. We wanted to write something a bit more anthemic again, explains vocalist/guitarist Cairns. In May last year we did a 20th anniversary tour for the Troublegum album, and it was completely sold out, and it was great hearing those songs sung back at us, and seeing what they meant to people. Clearly it would be idiocy for us to attempt to recreate Troublegum, because that was a different era, and a different band line-up, but the starting point for this album for me was thinking What would the protagonist of Troublegum be doing twenty years on? Our last two albums [2009s Crooked Timberand 2012s A Brief Crack of Light] were more experimental and diverse, and we already knew that he wanted to go back to more song-based stuff this time around, so that conceptual idea dovetailed perfectly with what we planned in terms of the musical direction.For those unfamiliar with Therapy?s storied past, 1994s Troublegum set represented what Cairns recalls as a leap of faith for both the band and the partisan fan-base they had accrued in the first five years of their career. Following the release of a self-financed seven inch single (Meat Abstract) on their own Multifuckingnational Records label in 1990, the trio – then featuring drummer Fyfe Ewing - recorded two corrosive mini albums, 1991's Babyteeth and 1992's Pleasure Death, for the respected London independent label Wiiija, with both collections attaining Number 1 status on the Independent music charts in the UK and Ireland. A major label bidding war duly ensued, with the trio ultimately signing to A&M Records: the labels faith in their new charges was repaid promptly with the delivery of first a Top 30 single (the wilfully abrasive amphetamine-abuse anthem 'Teethgrinder') and subsequently a Top 40 album (Nurse) in 1993.