JUDY!
The Arts Theatre, London.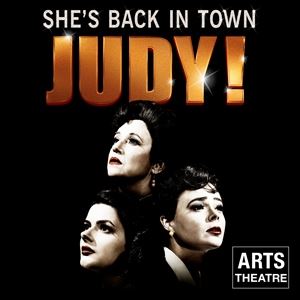 More information about JUDY! tickets
Running Time: 2 hours 20 minutes
No Booking Fees Offer
Valid on shows from 22 May - 1 June excluding Friday & Saturday performances. Book by 16/04/17. Ray Rackham's extraordinary biographical musical about the life of iconic movie star and chanteuse Judy Garland comes to the Arts Theatre for a limited season. This highly anticipated production sees Judy back in town following a critically acclaimed Southwark Playhouse 2015 debut (original title, Through The Mill). "PIERCES THE HEART AND RAISES THE ROOF." Times Since her first tentative steps on the stage as a young girl, Judy has become an enduring icon to millions of fans of all generations around the world. "BRILLIANT" Harper's Bazaar Ray Rackham has created a poignant and ultimately uplifting story portraying the star as a survivor in a man's world. Using three ages of Judy, he shows that her life was more than heartbreak and self-destruction. The stories of Young Judy (an innocent girl filled with hope and excitement as she heads toward her life-changing performance in The Wizard of Oz), Palace Theatre Judy (a woman at the height of her performing powers in the midst of a passionate romance with Sidney Luft) and CBS Judy (an older and possibly wiser woman) demonstrate that no matter how hard we look for love in all the wrong places, the answer is ultimately inside ourselves. "RACKHAM'S SCRIPT HAS AN OVERARCHING SENSE OF HOPE AND VAUDEVILLIAN RESILIENCE...AN UNMISSABLE PRODUCTION." The Stage The cast includes Helen Sheals (Last Tango In Halifax, Downton Abbey) as CBS Judy, Belinda Wollaston (Mamma Mia, Titanic) as Palace Judy and Lucy Penrose as Young Judy. The memorable score which is brought to life by a live band, is a wonderful combination of Garland standards interlinked with some of her lesser known numbers and includes The Trolley Song, The Man That Got Away and, of course, Over The Rainbow. "THE SHOW REMINDS US HOW, IN THE CONFLICT BETWEEN A MERCILESS INDUSTRY AND THE HUNGER FOR LOVE AND LIFE, A STAR IS INEVITABLY TORN" Guardian RAY RACKHAM (Playwright/Director) As a Producer and Associate Producer: Follies in Concert (London Palladium) and the Thirtieth Anniversary Production of Side by Side by Sondheim (West End, Novello). As a Producer Director: Barbara Cook in Happily Ever After (Fortune), Ordinary Days and the UK premiere of Harvey Fierstein and John Bucchino's A Catered Affair (both at London Theatre Workshop); Company (Pleasance Theatre); Follies (StageSpace); and Assassins (Mainspace). As a Director: Into the Woods (Greenwood Theatre); and Company (Baron's Court Theatre). Ray devised the Sondheim review Just Another Love Story, which enjoyed a run at London Theatre Workshop and was recipient of the Artistic Excellence Award at the Brighton Festival. His first musical, Apartment 40C, enjoyed its world premiere at London Theatre Workshop in December 2014 and transferred to the St James Theatre in April, 2015. Ray's latest work as a librettist and Lyricist includes a new, original musical entitled Therapy.
JUDY!

Booking Period:16th May - 17 June 2017
Age Restriction: 14+

Latecomers Policy: There are only a couple of opportunities for latecomers to be admitted. The venue will try to seat latecomers but this cannot be guaranteed.