Lionel Richie - EDPCOOLJAZZ 2021
Hipódromo Manuel Possolo, Cascais.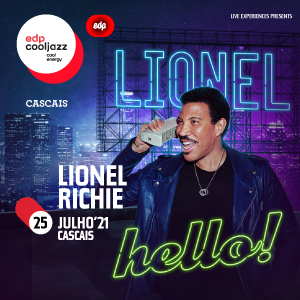 ANNOUNCEMENT
Due to the global situation caused by the pandemic of COVID-19 and public health uncertainties, EDPCOOLJAZZ festival is postponed to 2022, as the conditions necessary for its realization are not gathered at the moment. The event will be rescheduled for July 2022.
The tickets purchased for 2020 and 2021 will still be valid for 2022. Regarding tickets and new dates, the festival will soon give more information.
Solamente podrán acceder los mayores de 4 años - No se harán reembolsos para menores de 4 años

Cuando propocionamos un mapa de asientos, hacemos grandes esfuerzos por presentar la información correcta. Sin embargo, no podemos garantizarle la exactitud de nuestros mapas si falta tiempo o si existen cambios debido a exigencias de la producción. Generalmente, la distribución de las plazas se brinda a manera de guía y no constituye una representación exacta del lugar.
Más información sobre las entradas para Lionel Richie - EDPCOOLJAZZ 2021
Doors open – 19h00

Concerts (Cascais Jazz Sessions) – 20h00

The 17th edition of EDPCOOLJAZZ starts with glow. Lionel Brockman Richie Jr is one of the international icons of soul music. A member of the band Commodores, he decided to go solo and release unique themes such as "All Night Long", "Say you, say me" and "Endless Love". On July 25th, EDPCOOLJAZZ will receive Lionel Richie for a legendary evening.

With 37 nominations for awards such as Oscars, American Music Awards and Golden Globes, Lionel Richie has been awarded 17 times over the years for his albums and unique themes. He is currently an American Idol USA jury and continues to step on stage with the "Hello! Tour'". On July 25th, Lionel Richie will be at EDPCOOLJAZZ for an unforgettable concert, where the public will embark on a unique trip through his repertory.

The night of July 25th will be a special mark on the 17th edition of EDPCOOLJAZZ, hosting one of the greatest legends of American culture at Hipódromo Manuel Possolo, em Cascais.

Lionel Richie

Facebook | Instagram | Spotify | Youtube

Vídeo - https://vimeo.com/373090417

The tickets issued for the 17th edition of EDPCOOLJAZZ in 2020 are valid for the edition in 2021 and there is no need to change. In case of refund, and following the approval of Law 19/2020 of 29 May 2020, ticket holders are entitled to issue a voucher of equal value to the price paid, to be requested at the place where they purchased the ticket.

VOUCHERS - RULES OF AGREEMENT WITH LAW 19/2020 of 29 May 2020

The voucher request has to be made at the point of sale where you purchased the ticket.

The ticket must be exchanged for a voucher until January 31, 2021 (applicable to all festival concerts).

Ticket holders are entitled to the issuance of a voucher of equal value to the ticket price.

The voucher will be issued to the order of the ticket holder and is transferable to third parties by mere tradition.

It is valid until December 31, 2021.

It can be used to purchase tickets for the same show to be held on a new date or for other events held by the same promoter.

It maintains the insurance that has been contracted at the time of ticket acquisition.

If the voucher is not used by December 31, 2021, the holder has the right to a refund of the value of the same, to be requested within 14 working days.

LIONEL RICHIE - July 25th, Hipódromo Manuel Possolo, Cascais

Doors open – 19h00

Concerts (Cascais Jazz Sessions) – 20h00

VIP GOLD – 75€

VIP – 65€

AUDIENCE A – 55€

AUDIENCE B – 45€

BENCH (UNMARKED SEAT) - €35

STANDING AUDIENCE – 35€

REDUCED MOBILITY | AUDIENCE A – 55€


CORPORATE BOXES

More info: Live Experiences |+351 211 330 783 | miguelgouveia@liveexperiences.pt

More information: www.edpcooljazz.com

Facebook: www.facebook.com/edpcooljazz

Instagram: http://instagram.com/edpcooljazz

Spotify: https://play.spotify.com/user/edpcooljazz