Acid Mothers Temple Tickets
The Star and Shadow Cinema, Newcastle Upon Tyne.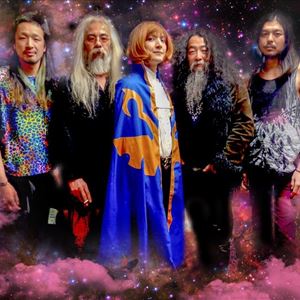 This event is for 18 and over - No refunds will be issued for under 18s.
More information about Acid Mothers Temple tickets
• More wows from Wandering Oak
here
•
Over the last 25 years no group has been more prolific or dedicated to pushing psychedelic rock to its limits than Japan's Acid Mothers Temple - a psychedelic band (Also considered a soul collective and freak-out band), the core of which formed in 1995 as Acid Mothers Temple & The Melting Paraiso U.F.O.. The band was created by guitarist Kawabata Makoto after the hiatus of Mainliner and early in their career featured many musicians, but by 2004 the line-up had drastically changed. The Melting Paraiso U.F.O. broke up briefly while
Acid Mothers Temple & The Cosmic Inferno formed with a harder, heavier psych-rock sound until the former group re-formed with different vocalists and various guests in 2006. Many more side bands and projects under the Acid Mothers Temple name have formed throughout the years with other iterations and variations on psychedelic but all bands are considered a part of Acid Mothers Temple according to Kawabata Makoto.
The Melting Paraiso U.F.O. alone has over forty studio albums while the other incarnations all have at least one other studio effort under their belt. Acid Mothers Temple have been releasing studio and live releases along with touring relentlessly since 1995 whether through labels like PSF and Important or through their own Acid Mothers Temple imprint. The band is also notable for their Acid Mothers Temple Festival, held every year since 2002 and showcasing special performances.
The band consider themselves as a collective as many musicians have come to collaborate with the outfit over their lengthy existence such as Kinski, Guru Guru, Gong and Yoshida Tatsuya of Ruins
to scratch the surface. Their music is typically themed around open psychedelia, song parodies, comedy, sex and professional wrestling.