Courtney Marie Andrews
The Glee Club, Birmingham.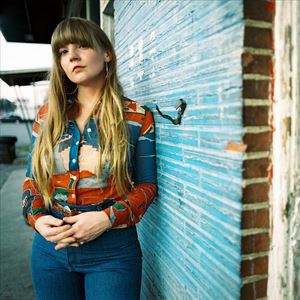 14+ only. 14s to 16s must be accompanied by an adult. No refunds will be given for incorrectly booked tickets.
More information about Courtney Marie Andrews tickets
Courtney Marie Andrews spent over nine months of 2017 on the road, with multiple trips across the US, Canada, Europe, Australia and New Zealand. That's nothing new for Andrews, though. She's been touring relentlessly since leaving her Arizona hometown at 16. It's a life that inspired much of her 2017 breakthrough album, Honest Life. While that album's themes spoke to the isolation and rootlessness inherent in a life on the road, most of its songs were actually written during an intentional, extended break. The success that followed its release, however, didn't afford her the same break to write the material for her new album.
Although May Your Kindness Remain was predominately written on the road — in the van, in hotels, and in the homes of family and friends — it's not a road record like its predecessor. That is, it's not so much inspired by her life on the road so much as it is by the people she's met along the way. It's an inward reflection on the connectivity of their stories and her own. May Your Kindness Remain is full of vivid depictions of complex people and places with all too common struggles. Much of the album deals with the psychological and relational impact of the unrealistic picture of success that is so embedded in modern American culture.
May Your Kindness Remain is Andrews' fullest sounding record to date, the songs and her vocals are never eclipsed and the arrangements are meticulous. It builds around Andrews' songs with heavy lead guitar (Dillon Warnek) and keys riffs (Daniel Walker, Charles Wicklander). Having played with Andrews for years, the rhythm section (Alex Sabel, bass; William Mapp, drums, percussion) fills the sound as naturally as you'd expect. There was no click track for Mapp, adding to the album's sentient, live feel. Every instrument and sound on the album has their proper place, across diverse styles: proud piano ballads ("Rough Around the Edges"); easygoing, country-tinted rock ("Kindness of Strangers"); and biting, sarcastic folk gems ("I've Hurt Worse"). Gospel singer C.C. White adds backing vocals throughout, including on the stunning title track, a striking statement of purpose that blooms at the end thanks to layers of soulful harmonies.
Andrews' own vocals are notably more powerful and soulful — especially on the organ-heavy blues number "Border", with a ragged weariness that honors the immigrant's resilience in the face of blatant thoughtlessness and racism; and "Took You Up", a take on accepting love as a simple offering before any illusion of wealth or success. Her vocal performances reflect her recent listening habits, which include Motown and soul, as well as albums by the eclectic rock band Little Feat. They also point to her confidence and growing range as a live vocalist.
In the end, May Your Kindness Remain finds Andrews at home in her restlessness, embracing her intuition. It has stretched her vocals, her sound and her songwriting to new depths and produced a brave record — a record that is unafraid of addressing the complexities of life in order to find common ground and understanding, no matter how divided this world may seem.