Grave Lines + Dystopian Future Movies
The Black Heart, Camden, London.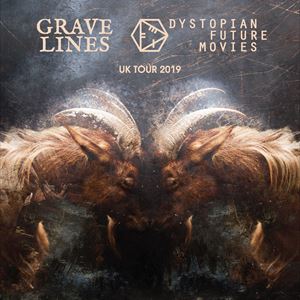 This event is for over 18s only - No refunds will be issued for under 18s.
More information about Grave Lines + Dystopian Future Movies tickets
human_disease_promo presents
Dark and sorrowful yet triumphantly bold London/Hove heavy gloom quartet, who traverse their sound through a range of instrumentation and a deep direct penetration of the psyche. Second full length "Fed Into The Nihilist Engine" out now on NHS Records.
Haunting introspective heady darkness with a touching post-goth edge from some of Nottingham's finest. Nestling somewhere between a Chelsea Wolfe and Swans-esque sound of discordant, swelling doomscapes.
Thick slabs of gargantuan riff soup from members of (amongst many others) Serpent Venom, Slabdragger and the Osiris Club. Devastatingly pounding and heavy but with room to flourish and take on a tangible life of it's own.
Bleak layered driving post-misery from the crustiest parts of South of the city. Cataclysmic, atmospheric and cathartic by it's very nature... a colossus of sound in all.

https://www.facebook.com/surya.band.uk/
Middle eastern epoch inspired doom croon meets a cosmic voyage to the farthest reaches of space and time. Debut album "A Crypt In The Stars" out now !

https://www.facebook.com/Lowenband/