Snapped Ankles Tickets
Newcastle University Students Union, Newcastle.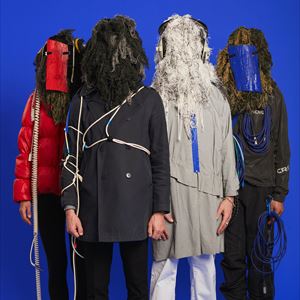 14+ only. 14s to 18s must be accompanied by an adult. No refunds will be given for incorrectly booked tickets.
More information about Snapped Ankles tickets
• More wows from Wandering Oak here •
Snapped Ankles return to the forest, but it's not as they left it. Trees planted in neat rows. A well-ordered monoculture with access roads and heavy machinery. The smell of greenwashed money in the air. There's no sign of the ancient woodland they emerged from on debut album, Come Play The Trees. And it's a far cry from the gentrified East London they found themselves hawking on Stunning Luxury. All is not well in the face of progress. Welcome to the Forest Of Your Problems.
Forest Of Your Problems runs the gamut of modern woodwose emotions. In this neat human approximation of the forest, it's an increasingly knotted affair. Despite all of this, Snapped Ankles haven't lost their innate ability to make you want to move your feet - their Teutonic forest rhythms are still shot through with post-punk lightning. Whether they're exploring those opportunities which might arise when a Nigerian prince emails out of the blue on 'The Evidence', or referencing the crooked woodwose attempting to go straight on 'Rhythm Is Our Business', this is music to lose your inhibitions to. The the moments of pure elation on 'Shifting Basslines of the Cornucopians' are worth the admission price alone - "It's a great time to be alive!" …apparently.
Snapped Ankles emerged from the woods in 2017 clutching an album that feels simultaneously modern and ancient. This is what dance music will sounds like when computers finally fail us. Log synths, bass guitar and sticks on taut animal skin coalesce to form fearsome primal rhythms. Fuzz guitars rubbing up against dirty rolling arpeggiated synthesisers to ignite wild white noise fires. They plough a singular furrow at improbable angles. The woodwose have discovered electricity and they're not afraid to use it.
https://www.snappedankles.com/