The Psychotic Monks + Structures - Billets
Le Normandy, Saint Lô.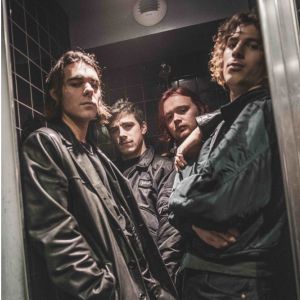 Plus d'informations sur les billets The Psychotic Monks + Structures
Il y a une sensibilité commune qui, depuis 2015, réunit les quatre membres de The Psychotic Monks. En perpétuelle découverte, s'enivrant d'expérimentations, ils nourrissent une révolte qui prend forme sur scène, ils s'y transforment. Se mêle à la révolte le fantasme d'un frisson autre, la recherche d'un exutoire collectif, à travers la musique.

---

Rage, douleurs physiques et émotions fortes composent l'univers nerveusement mélancolique dans lequel nous plongent les 4 membres de Structures. Leur Rough Wave est un véritable mouvement thérapeutique, une course sonique emplie de passion et de fureur offerte dans une transmission sans détours. Une voix autoritaire, des lignes puissantes et des rythmes nerveux, Structures dégage cette ambiance noire et addictive qui n'est pas sans rappeler These New Puritans, Total Control, Agent Side Grinder ou encore The Horrors.
Après avoir sorti « Long Life », leur 1er EP abrasif en Octobre 2018, et fait sensation au dernier Printemps de Bourges, les kids de STRUCTURES viennent de signer la sortie de leur 1er album sur le label DEAF ROCK (Last Train, Crocodiles, Colt Silvers, etc) qui sortira en février 2020.