Porto Legends Bilhete Presente - Billets
Alfândega do Porto, Porto.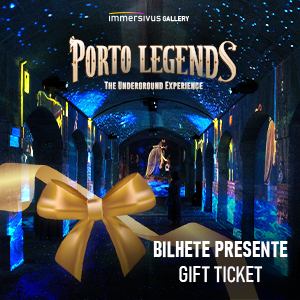 Este bilhete garante a entrada à experiência imersiva:
• PORTO LEGENDS
Os dados a ser preenchidos a seguir são os dados do comprador, a pessoa que adquire o bilhete.
Este bilhete poderá ser cedido a uma terceira pessoa que deverá obrigatoriamente efetuar a marcação da data e do horário pretendido através do contato info@immersivus.com /+351 910120128
Disponibilidade sujeita à lotação existente.
Plus d'informations sur les billets Porto Legends Bilhete Presente
Porto Legends -- the Underground Experience is an immersive virtual show that brings you deep into the hidden secrets and legends of the Undefeated City.

From the magical architecture of the Porto Customs House -- Furnas da Alfândega and the work by the renown historian Joel Cleto, OCUBO Studio created a show full of mystery, suspended between reality and imagination.

These legends will be told by the voice of "Best Actor" Academy Award winner Jeremy Irons as well as portuguese singer Pedro Abrunhosa.

All mysteries are an integral part of the soul of the city and will be narrated by voices, graphic animation and music, so the walls of Furnas da Alfândega will come alive to tell the public their story.

The show is a unique and immersive audiovisual experience of national resonance which aims to become a landmark of the city, a must-see cultural icon to be enjoyed by the people of Porto and by visitors alike.

Duration of the Show: 45 minutes
Doors open 15 minutes before the start of the show
Narration available in Portuguese, English, French and Spanish.
PROMOTER: OCUBO
More information at https://www.portolegends.com/
Need Help? For any question you can contact us at:https://www.seetickets.pt/customerservice