Voltei - Billets
(Sala Preta) Teatro Taborda, Lisboa.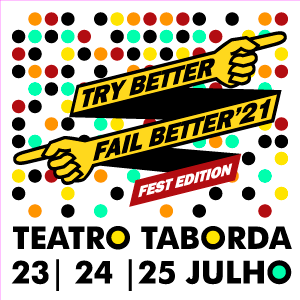 Cet événement est réservé aux personnes de plus de 16 ans. Aucun remboursement ne sera accordé aux personnes de moins de 16 ans.

Nous nous attachons à vous fournir des informations correctes lorsque nous vous proposons le plan de la salle d'un événement. Ho...
Plus d'informations sur les billets Voltei
OFF TB, FB'21 refers to the special program of the cycle TRY BETTER, FAIL BETTER'21 – FEST EDITON, in which Teatro da Garagem invites creation structures and/or creators to integrate the Festival's programme. In this edition, OFF TB, FB'21 has the presence of the creator Joana Raio.

SYNOPSIS

At 18 I emigrated to London, I told my mother that if things didn't go well I would come back. ''Don't worry mom, I'll stay there for 2 weeks and come back.'' Who says two weeks, says 12 years…I came back is the account of my experience as an emigrant and the adventures of my return, reflecting on the cultural and social differences between the two countries. In addition to my testimony, this show gives voice to the experiences and perspectives of other Portuguese emigrants and foreigners who decided to live in Portugal. I came back is an ode to what makes us leave, what makes us go back and the bonds we create and the families we build, far from our roots.

CAST AND CREW LIST

Staging Arknel Marques

Dramaturgy Joana Raio

Cast Joana Raio

Video and Image Arknel Marques

Photography Filipe Ferreira

Communication Marta Silva

Production Assistant and Stage Manager Carlota Crespo

Production Joana Raio and Teatro da Garagem

Host Teatro da Garagem

With support of Sociedade Comercial do Vouga, Câmara Municipal de Lisboa, EGEAC, Junta de Freguesia de Santa Maria Maior

Financed by Direção-Geral das Artes, Governo de Portugal | Ministério da Cultura

More information:

+351 218854190 | +351 924213570

producao@teatrodagaragem.com
O TRY BETTER, FAIL BETTER [Ciclo Novos Criadores] é um incentivo a novos criadores, que encontram no espaço do Teatro Taborda uma casa para apresentar os seus trabalhos, a um público mais vasto. O mote é justamente o da criação por tentativa e erro, um encontro entre sensibilidades e procedimentos artísticos que estão em pleno processo de formação e/ou afirmação.