Dream Theater - Billets
Le Liberté, Rennes.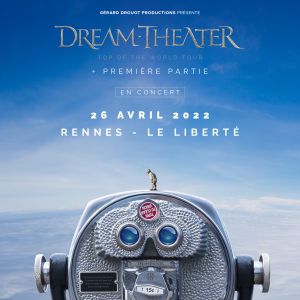 Plus d'informations sur les billets Dream Theater
DREAM THEATER
TOP OF THE WORLD TOUR 2022

Les pionniers du métal progressif reviennent pour quatre concerts exceptionnels en France dans le cadre de leur tournée 'Top of the World Tour 2022'.

Composé de James LaBrie (chant), John Petrucci (guitare), Jordan Rudess (clavier), John Myung (basse) et Mike Mangini (batterie), le groupe sortira son quinzième album studio intitulé 'A View From The Top Of The World' à l'automne. Le premier single 'The Alien' est déjà disponible.

Après un passage remarqué début 2020 à Paris et Lyon pour célébrer le 20ème anniversaire de l'album 'Scenes From a Memory', Dream Theater sera de retour en France en 2022 pour quatre concerts qui s'annoncent déjà incontournables !