Niall Horan Tickets and Dates
More Information about Niall Horan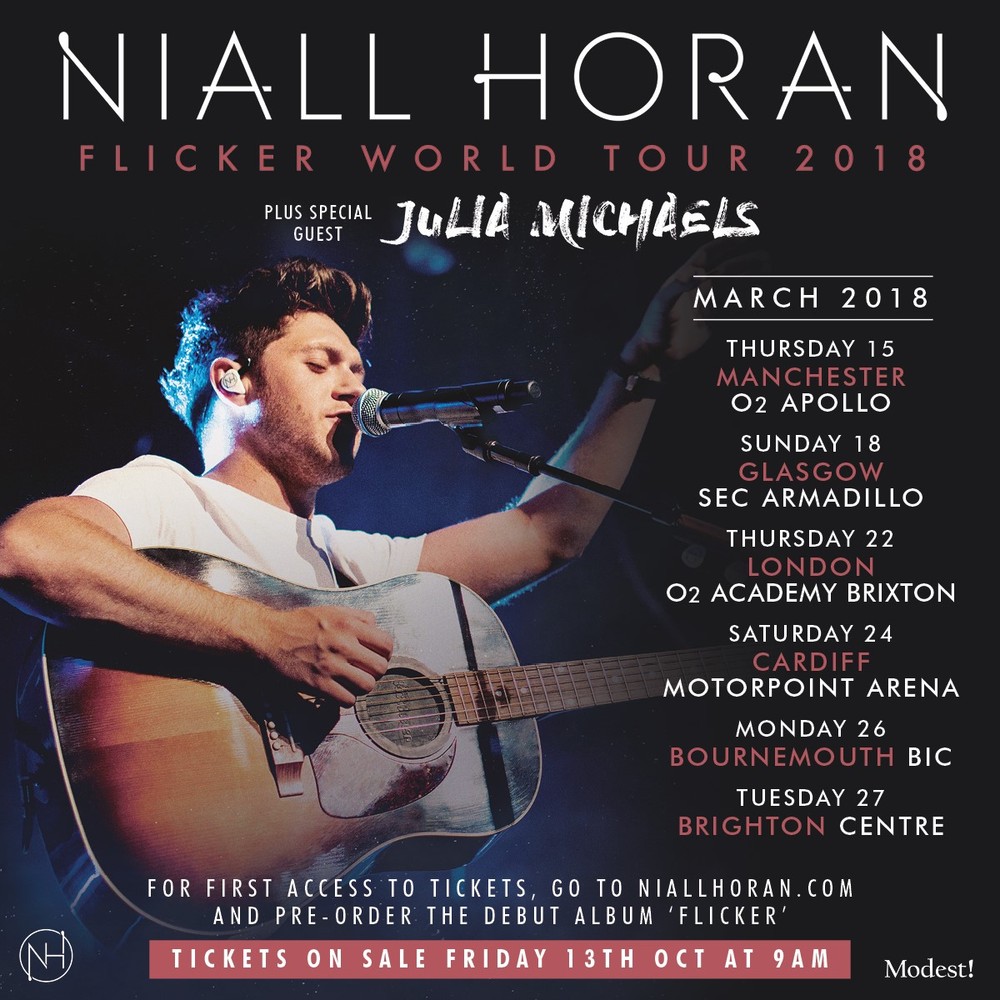 More Information about Niall Horan
What people are saying about Niall Horan
Rated

5

out of

5
by
MaddyT
from
Lovely Irish lad with lovely songs
Girls' evening out -older mum with teen girl fan -what a brill evening! Worth every penny of tickets, hotel and travelling all the way from the midlands to Brighton! Kept the crowd in raptures from the opening upbeat ' On the loose' through all the favourites -this town , seeing blind, too much to ask, and the amazingly growly traditional -Irish-style on my own. We were all singing along through the whole album and more. Think the teens enjoyed it too! And could enjoy the music without too much screaming! Good venue too. Nowhere was too far from the stage to get a good view. What a lovely lad. Good on yer, mate! Keep it up!
Date published: 2018-04-12
Rated

5

out of

5
by
Directioner
from
Delighted Daughter
Daughter's xmas present - she has said was the best night ever - We, her aging parents, were pleasantly surprised with how good Niall Horan sounded on his own, having only seen him previously in One Direction band. Daughter had the upgrade soundcheck package which of course she thoroughly enjoyed.
Date published: 2018-04-04
Rated

5

out of

5
by
skw
from
Humble guy, fabulous voice
This concert was awesome. Niall entertained from start to finish with his band and various guitars in hand (apart from a surprise tinkle on the piano!) What a humble guy too, who was genuinely grateful to everyone for buying a ticket to see him. Would recommend to all ages as a performer not to miss.
Date published: 2018-04-04
Rated

5

out of

5
by
Tian
from
Incredible!!!
I went to the Brighton concert with my 2 friends and it was absolutely amazing! I couldn't of asked for a better concert! He's so energetic and full of excitement when he's on stage, he even throws in some comedy when he's talking in between songs! Overall best concert I've been to. (All photos are mine)
Date published: 2018-03-30
Rated

5

out of

5
by
Anonymous
from
Dreamy night with Niall in Brighton
It is absolutely worth to wait outside 3 hours for Niall. The crowd is amazing and the screaming just let me get more excited. Niall is full of enthusiasm on the stage, I am so proud of Niall just being Niall has such a strong power. I love Niall so much hope he can know. Also, Julia Michael is so energetic great singer. (All the photo is mine) 2018.3.27 Brighton
Date published: 2018-03-28
Rated

5

out of

5
by
Llysfaen Lass
from
Best concert ever
had these concert tickets from my mum for my 18th - fantastic seats - great concert - thanks mum xx
Date published: 2018-03-25
Rated

5

out of

5
by
ginger43
from
Excellent gig
Went with my daughter as she was a 1D fan. I must say I was pleasantly surprised. Niall's performance was excellent.
Date published: 2018-03-25
Rated

5

out of

5
by
Liamjerrum
from
Daughters christmas present...
Great theatre, great atmosphere, 2 great acts, great staff!!
Date published: 2018-03-17