The Icicle Works
Harpenden Public Halls, Hertfordshire.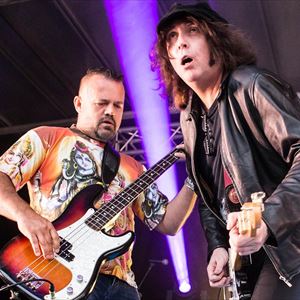 More information about The Icicle Works tickets
The Icicle Works 2½ hour show performing the music of Ian McNabb and The Icicle Works. Named after the 1960 short story "The Day The Icicle Works Closed" by science fiction author Frederik Pohl, The Icicle Works joined Liverpool's early 1980s 'neo-psychedelia' wave, which also propelled Echo & The Bunnymen and The Teardrop Explodes to stardom.
The Icicle Works first rose to prominence with two major hits 'Birds Fly (Whisper to a Scream)' and 'Love Is A Wonderful Colour', the eponymously titled debut album was also a hit on both sides of the Atlantic, achieving gold. They went on release four more Top 40 albums until splitting immediately after "Blind".
The other two members of the band were Chris Layhe (bass & vocals) and Chris Sharrock (drums), the latter went on to enjoy great success playing in Oasis.
Ian went on to record one more album under the name 'The Icicle Works' signing to Epic in 1989 and using session musicians in place of the now departed Chris's. "Permanent Damage" was released in March 1990, but fared badly in the midst of the then exploding 'Madchester' scene.
Lead singer Ian McNabb went on to pursue a solo career, but after a plethora of new bands, solo works and collaborations, Ian McNabb has now resurrected The Icicle Works and is touring the UK, showing off his incredible musical career.